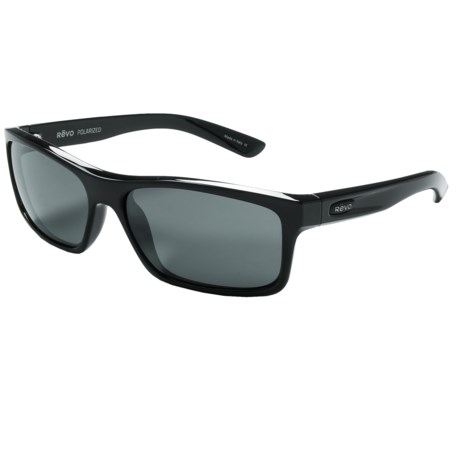 What I Received Appears to be Knock-off Revo's, Not the Rreal Thing!
Reviewed by Eyes Wide Open from Colorado on Thursday, June 11, 2015
I have owned Revo sunglasses before, and I should have known that the price for these sunglasses was too good to be true. They do not look or feel like real Revo's. They feel and look like very cheap drug store sunglasses, and I am sending them back. I am very disappointed - the product I received was not the product that was advertised. It appears others have come to this same conclusion based on recent reviews.

There are several reasons these appear to me to be inferior, cheap knock-off's and not real Revo sunglasses:

-- The lenses on the glasses I received are lightweight plastic - clearly NOT the "Crystal optical glass" as specified in the product description on the STP product page. You can tell the first time you pick them up - these sunglasses are far too lightweight to have any actual glass in them. It is the glass lenses that make Revo's special - the sunglasses I received have lenses that feel like very cheap, very thin, plastic. They certainly lack the optical sharpness I have experienced with real Revo sunglasses with the authentic crystal glass lenses.

-- On the lenses themselves, there is NO "polarized" marking etched onto either lens. My understanding is that ALL real Revos have polarized lenses, and they always mark their sunglasses with etching on the upper outside of the right lens with the word "POLARIZED" (just look at product pictures for this model on authorized retailer websites).

-- The frame of the sunglasses I received do not have any recycled material logo on it. My understanding is that Revo used recycled nylon for this model and advertised it as such. The sunglasses I received look and feel like cheap, glossy, lightweight molded plastic. The plastic frame looks and feels hard and brittle - it does not feel like nylon to me.

- - The product box says "Revo" on it, but it does not have a typical Revo product information label. The small label on the "Revo" box I received had minimal information. Real Revo's I have previously purchased came in a box that is printed with a product label that has more product information including third party logos, CE mark,, etc.

-- The case provided is NOT the same case that Revo provides with when you buy this model through an authorized Revo dealer. The case I got was ballistic nylon-like textured and all-black, including the logo. It was not the sturdy rubberized Revo case with a silver logo that is shown on websites of authorized Revo retailers (even for this model - the Square Classic). I guess this could be a really, really, really old version of a Revo case, but I can't find any authorized retailer website showing the case I received. This suggests it is not a real Revo product, but a knock-off.

-- There was no Revo product manual in the box - only a little card that stated that Revo has a 2 year warranty. Every Revo I have purchased before came with a folded-up manual.

As I said, this product is quickly going back to STP. What I received it not at all what I expected from the product description. Even at the low price i paid, I feel ripped-off.