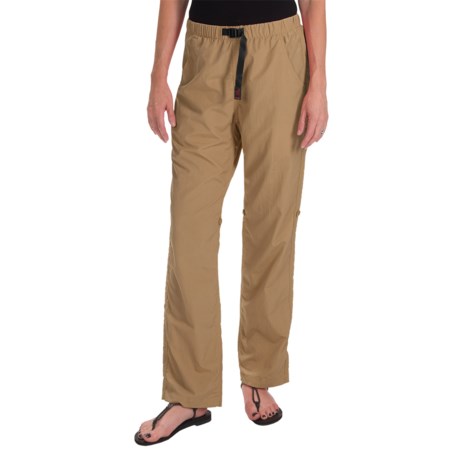 They are very lightweight and should be fine for all of Hawaii with the exception of the very high elevations.

No, I don't think so. The fabric is fairly lightweight. And, with the ability to roll up the pants, you will have the ability to roll them down, without being too hot, if you need the sun protection.

I would say definitely not. They are very lightweight.

I don't think they'd be too hot since the fabric is light weight.

In my opinion, they are not. They are quite light and dry completely hanging overnight. But not everyone's comfort level is the same.


Not at all....I use to live in Kailua and these would be fine there. The fabric breathes nicely and of course, Gramicci pants are always comfortable.

I live in Florida which is obviously hot and muggy in the summer and the rocket dry roll-up pants are an excellent choice for hiking or just being outside and helping to keep from getting assaulted by the mosquitoes. They dry very quickly and the dirt just brushes off. These pants are my favorite for hiking in all conditions (I layer with long underwear for cold weather hiking). I own 3 pairs and after just returning from an extensive hike in England, I decided the next time I travel to hike, I don't need to take any other kind of pants because I could wear the rocket dry pants all day, even through bogs, and just brush off the dried mud and go to town! I am a huge fan of the rocket dry pants and think they would be great for hiking in Hawaii!

the material of the pants is a very thin sheeting nylon. I brought gramicci pants to Hawaii and used them on occasions when it was a bit cool in the evening or if I wanted to protect myself from the sun or out hiking. they are so lightweight, I packed a pair in my carry-on and they barely took up any room and weighed a couple pounds at best.

These are pretty light weight.

These are pretty light weight.

These are pretty light weight.