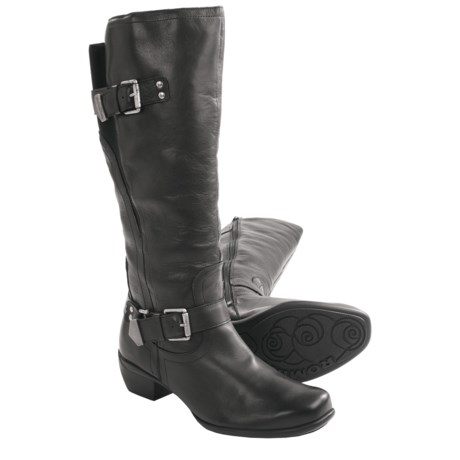 I would call them top grain leather. They are very soft, smooth, and did not have any imperfections when I received them. I love my 2 pairs!

I am not 100% sure, but as far as i can tell they are not full grain. There is some natural looking texture to the leather, but I would assume some correcting has been done to the leather, making it fairly smooth.

All leather, very. Soft. Has a fake fur like lining, very comfortable. Back of calf has an elastic insert about 5 inches tall.

I believe so. To be honest, I was so disappointed they wouldn't close over my calf that I packed them up pretty quickly to go back.

Yes it is full grain leather. There is a very small insert of spandex on the back for calf stretch. They do fit somewhat snug around your calf. The lining has a faux fur that is warm and the heel and sole is made of rubber. I just wore them in 60 degree weather today and felt comfortable.