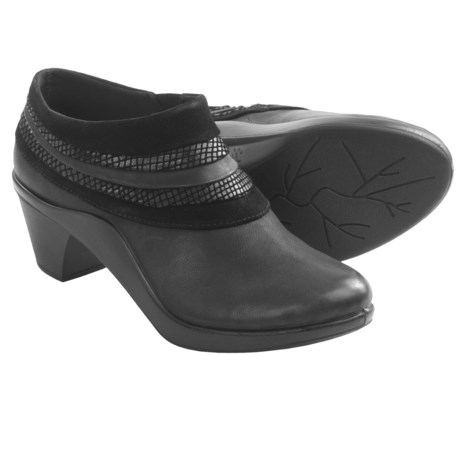 I had to size up as well. Normally I wear a 37 in Danskos but had to send the 37 back in these for a 38. I can't speak to if they are consistent in the Romika line as these are my first pair. Very nice boot though.

I sized up based on the reviews and found they were too big, had to send back for my normal equivalent to Euro size. I take a US 7 and my feet are fairly wide. I have had plantar, have a slight bunion and other foot pain but find these booties very comfortable.

The front half of the shoe has no insole; this makes one's toes hit the front of the shoe. When I put a thin Dr. Scholl's insole into each shoe, they fit fine. I know that doesn't make much sense but two of the other pair I bought also had the missing front insole. They also felt short because my toes 'bumped the front' until I put the additional insoles in the shoes. Sizing up would make Romika's too big for me.

Because they are hard to get on without any side zipper, it's nice to size up but once you get them on they are fairly true to size. The leather will stretch in time and if you buy a shoe horn you could go with your regular size. It all depends if you like shoes snug or loose. Also, if you size up, a thin insole liner will take care of the problem.

i went up in size because of the way they fit at the ankle ...you have to wiggle your foot in with your finger. They also fit perfectly going up a size for me - hope this is helpful....

According to our fit models this item is running true to size.