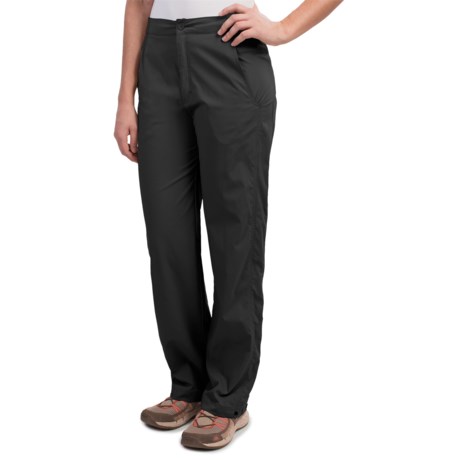 For me--at the waist. Great pants!

The waist is really at the waist. Measuring from the crotch seam to the top of the front waistband, it is 12.75 inches in a size 16.

For me, these pants seemed to need to sit at my actual waist (which is a dealbreaker for me -- unless I want to wear pants that are practically touching my bra strap).

I have four pairs of these Royal Robbin Cardiff pants. All, size 10 Long. My experience is that these pants sit at the waist like a normal pair of womens trousers and it below the waist as described in your question. Yet they are not what some refer to a "mom jeans" by being overly high waisted. Instead, these pants sit at the natural rise of the waist and rest nicely flat on the front making for a clean and crisp appearance.

Too, I will share that the waist band is adjustable. There are two buttons with tabs on each side of the waist if these pants which allows for expansion or contraction of the waist. I find the smaller waist circumference suits me best while still allowing one to tuck a shirt into the waist.



I find they are at to just below the waist vs sitting at pelvic bones...I am picky about that and love these pants...I have 2 pair

These sat about 2 inches below my waist. They were true to size for me.

fits at waist on me

I didn't mention anything about the waistline in my own review, however it IS the case that these pants do come right to my waist. The waistline on me is a tiny bit large so that I can pull the pant down an inch below my navel, if I want, or I could move the button a half inch tighter and have the pant fit right over my navel. 'hope this helps.

They sit at just about waist level for me. They are certainly not 3-5" below.

The waist of the pants sits about one inch below the waist. A great pair of pants of you like pants that fit at the waist. The pants are light weight, good fabric, and very comfortable. Has a slightly baggy look. I have 8 pair of them. I am 64 yr old and love them but my 27 yr old daughter will not wear them because of the high waist.

Yes, the pants are really at the waist. If they become too loose when they stretch out there are buttons in the back that can tighten up the waist.
I do not like pants that fit below the waist and these pants fit at the waist.