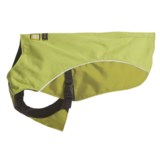 Closeouts. Protect your trusted canine from cold temperatures, brambles and burrs with Ruffwear's K-9 Overcoat for dogs.
Average Rating based on
60
reviews
4.550000
0
5
Reviewed by Savvy Shopper from Southeast US on Monday, January 9, 2017

You can't beat Ruffwear and STP. I have the 2XS for a Yorkie (5 lb), without these coats I could have never housebroken the dog. Great for rain and cooler weather (Ruffwear makes a heavier coat for cold weather). Ok, never thought I would put clothes on a dog, but for a small dog this is a must. Only wish Ruffwear would put an opening for a harness, small dogs can't wear a collar on the neck easily.

Verified Buyer

Reviewed by Dilbert from Oregon on Friday, December 30, 2016

Well made, fits well, priced right

Verified Buyer

Reviewed by Sarah from Raleigh, NC on Wednesday, February 17, 2016

I ordered this for my sister's dog who is quite small. The coat came and it's too large for her, even though I ordered a small. I am not faulting anyone but myself for that mistake as I don't order dog coats often so I don't know what to look for. She and I both loved the color (green) and thought it was high enough quality that we would give it to a friend of hers with a larger dog. The material seemed a little stiff but for dogs it probably doesn't need to be a flexible as it would be for people.

Verified Buyer

Reviewed by High Desert Shopper from New Mexico on Wednesday, December 30, 2015

I so wanted to keep these coats (I ordered 3). Easy on and off. Nice reflective accents. Warm, water resistant, easy care. The torso fit true to size, the neck opening was adequate but not oversized.... this would have been the PERFECT winter weight jacket for dogs out in cold or snow. The only problem was back length- it was not long enough to cover far enough back towards the tail for any of my dogs (lab retriever mix, husky, and a just-no-idea mix, all around 45 - 50 lbs, and somewhat long) Upsizing would make the jacket too loose- my guys are on the slender side. It didn't work for my pack- but is such a nice jacket might be awesome for yours.

Verified Buyer

Reviewed by PA birdlady from Pennsylvania on Monday, December 7, 2015

Cute doggie coat. I'm sure Small Jake and his Mommy will love it

Reviewed by Lia from California on Wednesday, November 25, 2015

I ordered several coats to try on our dog (40 lb lab mix), and this was the best out of the Ruffwear, Ollydog and Golden Paw coats we tried. The size Small fits her, but is a little short for her back length.

Pros
No velcro - it slips over the neck, then has 2 hidden side buckles. You can adjust the sides to get a close fit on the chest piece (all the other coats drooped in the chest and could not be adjusted any tighter).

Cons
A little short in the length
A little tight in the neck (it fits her, but there's not a lot of extra room when you're slipping it over her head)


Verified Buyer

Reviewed by Mountain Mike from California on Thursday, October 15, 2015

The small size is perfect for my 55lb boxer/pit bull mix. She gets cold in the rain with her short hair and the length goes about an inch from the base of her tail. We are not getting any rain here in California yet, but it fits much better than a Hurtta coat I got last year. I highly recommend this coat!

Reviewed by Delta from RI on Wednesday, October 14, 2015

This is my second time buying this coat. I bought one last year at twice the price elsewhere and couldn't resist the sale plus I love the green. These coats are well made and are are easy to put on/take off. I love the fact that there is no velcro as anyone with big chested dogs know it just doesn't hold up. I have bought many coats and these are my favorite for the fall. Hurtta makes my favorite winter coats.

Verified Buyer

Reviewed by Huzi from New York, NY on Wednesday, July 1, 2015

Size XS fits our medium built pug. Love the details like hidden buckles etc. Please have more Ruffwear products!

Verified Buyer

Reviewed by Sharklovers from Seattle on Thursday, March 12, 2015

We'd initially ordered the size medium for our dog, based on the measurements, but when it arrived, it was way too bog for him. STP made it so easy to do the exchange, it was great! We re-ordered the XS jacket, and it arrived very quickly. This jacket is excellent quality, easy to put on and remove, and also easy to just wipe clean. Keeps our pup warm and dry, as it repels water very nicely.