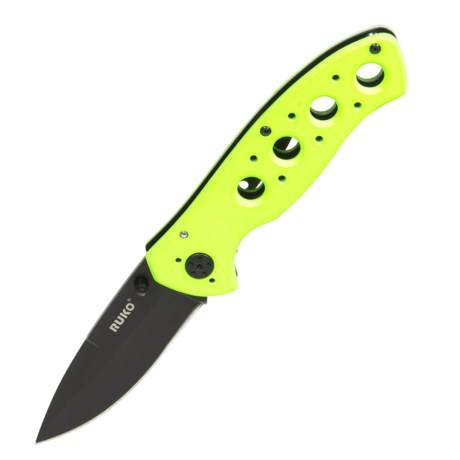 You have to push the blade lock to the side. It is a little ridged piece of metal in the sheath at the base of the blade that you have to push to the side to close the blade. If you are holding the knife in your right hand, you would use your right thumb to move it aside.

Here is a link to a short video that will show you how to close your knife. It is a different knife, but the same style of lock.

https://www.youtube.com/watch?v=WBwWUhF_6d8

In the forefinger grip, there is a serrated lever that moves to the side, and best actuated by your thumb. This requires a changing of how the knife is gripped, but is a natural movement that should be easy to learn. The high visibility neon green/yellow makes this easy to find in a glove compartment, if even needed to cut a seat belt in an emergency.

Liner lock, serrated in recessed thumb hole. This is a well made knife.