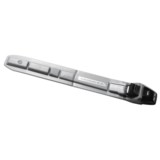 Closeouts. Compatible with SNS boots, Salomon's SNS Profil Auto touring ski bindings with universal flex feature a full-length guide ridge for improved ski control and steering.
Easy automatic step-in
For boot sizes: Mondo 26-33 only
Maximum ski length: 175cm (69")
Weight: 10 oz. pr.
Material: Composite
Closeouts. France.
Questions about this product? Get answers from community and staff experts.
Question
(10 Questions)
Answer
(10 Answers)
"What boots Can I use with them? I got skis from my girl friend and looking for boots? "

We apologize, but this item is sold out. We suggest signing up for the My Updates as the best way to monitor incoming products. You will receive email notifications of our newest stock items.

"Does this binding use the same mounting pattern for attachment to the ski as the older style 75mm (3 pin) binding?"

If you currently have an older set of Salomon SNS Profil Auto Touring Ski Bindings the mounting pattern should be the same.

"Will these bindings work on kids skis?"

The Salomon SNS Profil Auto Touring Ski Bindings are for boot sizes: Mondo 26-33 only. If they fit in that range, then yes.

"Will this binding work on a set of skis that are a 170 length? Is the general handyman able to change bindings from a 3point binding to this sns binding themselves? Are all of the needed screws included?"

The maximum ski length for these bindings is 175mm(69"). I would not recommend changing out your bindings if you have never down it before.

"Will these work with the Atomic Alea sns cross country women's boots, size 6.5?"

These work with your Atomics. As long as it is a SNS boot it will work with a SNS binding. Enjoy!

"Is the pricing for a pair of bindings or per individual binding?"

The price is for a pair of bindings.

"I have Atomic SNS Pilot Boots with two bars instead of 1. Will this SNS Profil Binding work with the SNS Pilot Boot? I believe for them to work there would have to be a clearance in the Profil base for the second Pilot bar."

They were not designed to be compatible, however, Pilot boots can fit into most Profil bindings, due to a small space behind the front of the boot for the other axis.

"what is the flex on these bindings?"

"I have a question about Item #2335T: Salomon SNS Profil Auto Touring bindings.||Are they a Junior binding? The description states a boot-size limit of 33, which is a pretty small size."

They are not Junior sizing. The sizing is Mondo Point. A 26 Mondo is equal to a US Men's 8 or a US Woman's 9.

"Are these labled junior?||What is the overall length of the assembled binding?||What is the numeric value on the rubber piece in front of the clip-in point?(example: 95,100, or 105)?||I own Saloman SNS Profile Auto Bindingss in both womens and mens styles and would like to purchase 3 additional sets, but not if these are the junior kids version"

These are adult sized bindings. The size range posted is Mondo Point sizing. A Mondo 26 is equal to a US men's size 8.