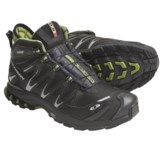 Closeouts. All of Salomon's signature trail running shoe technologies get a little extra height in Salomon's XA Pro 3D Mid Gore-Tex® hiking boots. Rain or shine, these lightweight powerhouses command the trail with a Gore-Tex® waterproof breathable membrane, a wealth of support and stability, and a Contagrip® outsole for dynamic conditions.
Average Rating based on
53
reviews
4.188679
0
5
Reviewed by tioPablito from GA on Saturday, July 20, 2013

No chance for a long walk yet, but these fit perfectly right out of the box. Extremely light weight - looking forward to some extended walks. All my "hiking" is with minimal baggage (camera & water), so lighter weight boots are a good thing. Probably would not be the best choice for heavy duty backpacking, but if that's what you do you shouldn't be looking at these anyway.

Reviewed by msh752002 from Texas on Tuesday, April 30, 2013

Brought these boots with us to Yosemite and the Grand Canyon. Performed better than expected. First hike in them was 18 miles with no problems in Yosemite. Even with about 20Ibs, going down the Canyon and back up, 19 miles, they supported my ankles and locked my foot in place. The quick draw string is amazing. The soft part in the back of the boot lets your ankle move comfortably. Grip is good. Waterproof, awesome. Only problem is you do feel most of the sharp rocks, needs a plastic shank or some type of device to reduce that problem.

Reviewed by pipers daddy from jersey on Wednesday, April 17, 2013

These shoes are great. Light and comfortable. Perfect for those with a thin foot. Definitely weatherproof up to the ankle so far. The only drawback is the zip laces keep coming loose.

Reviewed by Hiker-Ed from Houston, Tx on Monday, April 1, 2013

My first few initial times of wearing these boots make me question: are they really boots? They feel as comfortable as most athletic shoes. I have to wait a couple more weeks for thier first hiking trip, but so far, so comfortable!

Reviewed by desert_herb from Golden CO on Thursday, March 28, 2013

Got these for desert backpacks. Fit my feet well. Moderately stiff sole should protect OK from rocks. Higher top keeps out rocks, but not stiff enough for a lot of "ankle support". The usual Salomon laces, which are handy but tough to replace if they begin to slip because of mud or sand. Take a spare set -- curiously, the best deal I found on those was at REI.

Reviewed by Chris from Bozeman Gunworks from Bozeman, MT on Friday, March 22, 2013

I found these even more comfortable than the low top version. They even seem to have a tiny bit more width for big toe and little tow. The first pair that was delivered had a squeak everytime I stepped in the left shoe. Exchanged them out since it drove me crazy in the library...

Reviewed by Tom S. from Colorado on Monday, March 18, 2013

I was looking for a MID waterproof boot for weekend backpacking and all around support. I wore these to a three day music festival where the temps were sub zero some nights. They stayed warm with a good pair of socks and generous movement. Stood in ankle deep mud puddles for up to 20 minutes at a time, never felt any moisture. Took them on a daytrip last weekend to one of my favorite fly fishing canyon tailawaters, had a 20lb load. Hiked 5 miles on the rugged canyon trail, walked through a generous amount of water, even did some scrambling, they held up great. True to size, I have an average widgth foot and it fits snug ( i wouldnt recommend this for a wider foot). The quick lace system is a really nice feature. Simply press the clasp and they completely loosen, making them very easy to put on and and take off in a hurry. Some people complain about the laces being floppy. There is a mesh pouch on the tongue that you very easily stuff the tag lace in. These are much easier to put on and take off than boots. Extremely lightweight, lighter than most of my tennis shoes. Overall, this is an excellent product, very impressed.

Reviewed by Eric from Rochester on Tuesday, March 5, 2013

I needed a pair of real hiking boots and found these were recommended from friends. At first when I got them I noticed there was pinching from the left shoe where the top lace meets the tongue. After a few times wearing them it went away though. I like them, tested it in couple inches of slush/rain walking the dog and they stayed dry. The inner foot pads might need to be replaced but other than that seems ok. Will be going on a camping trip soon and we'll see how they hold up but they seem great for now.

Reviewed by ridge walker from New Zealand on Sunday, March 3, 2013

I purchased these boots as I wanted some light water proof boots with ankle support for hiking in hilly terrain when heavy boots are not required.
These boots are very light ,not sure yet on the water proofness yet as they have not been tested in wet conditions,they are fairly comfortable but find that with the quick lace up system they do not have enough tension around my ankle to give firm support,however that could be my small ankle size.The other con I would have with the lace system is after they have been done up and tension applied what to do with all the slack lace that would hang over the side of the boot if left hanging so i poke them through the laces which is ok, but is time consuming to then pull out when taking boots off.
over all i am happy i purchased these boots as it is difficult to find very light weight water proof boots like these.

Reviewed by Mercator Marauder from Conifer, CO on Friday, March 1, 2013

I've worn these through about three feet of snow. They are definitely waterproof and have great traction. The arches seem a bit close to the heel. I've worn several pairs of shoes and boots from Salomon, and this is the first time I've had an issue with the arch. Other than that, they are quite comfortable. They are very light weight, but surprisingly stable on snow, ice and rough terrain.