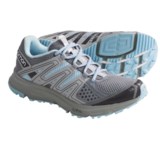 Closeouts. Salomon's XR Shift trail running shoes shift your trail runs into high gear with a lightweight, breathable design that features TPU toe cap and inserts to protect from rocks, and an OS Tendon outsole frame that increases stride efficiency.
Average Rating based on
87
reviews
4.413793
0
5
Verified Buyer

Reviewed by Lynn Marie from Wisconsin on Thursday, May 28, 2015

After adding an arch support, the shoe was comfortable enough to wear. It is a beautiful shoe, however, for those who are used to a more supportive arch, they may find it a bit "flat" fitting.
It hugs the foot and gives a side stability.

Verified Buyer

Reviewed by Susannah the Slow from France on Tuesday, May 26, 2015

Based on all the positive reviews on this shoe, I decided to give this brand a try. I've only gone running in them a handful of times and am overall satisfied with their performance. They're light and yet sturdy enough for trail running. There's also plenty of room in the toe box for my feet as they tend to swell a bit when I run. However, I was a bit disappointed that one of the bindings that holds the shoe strings has already broken. I'm sure that it's a defect that doesn't happen often but nonetheless it's worth mentioning.

Verified Buyer

Reviewed by Cathy from Connecticut on Monday, May 18, 2015

I usually order running shoes at least one size larger than my normal shoe size. With these, I ordered my usual shoe size--6--since I have a pair of size 6 Salomon hiking boots. The shoes fit fine and are very comfortable and supportive.



Verified Buyer

Reviewed by Floresta from Catskills on Monday, May 4, 2015

I need a wide toe box but like support around my arch and this is the best trail runner I've found so far for the money. I actually just ordered a second pair so that I have one available when my current pair gives out. Great traction and supportive where it needs to be. I especially like the fact that my foot doesn't slide forward on downhills. Great color too.


Verified Buyer

Reviewed by Bernadette from California on Sunday, May 3, 2015

I have two other pair of Salomon trail running shoes that I love, but these ones, not so much. Where the tongue attaches to the shoe was very lumpy -- so lumpy, in fact, that I ended up with a painful bruise on the top of my foot after one rigorous trail run. I ended up sending them back. Maybe just a defective pair?


Verified Buyer

Reviewed by Ginny Jogger from Minneapolis on Friday, May 1, 2015

The shoes are lightweight, comfortable, and have some extra room in the toe area. I have never worn Salomon shoes before, but I am sold. I tried on a ton of running shoes and just could not find the right fit. I have high arches and none of the shoes I tried had any arch support. The arch in the Salomon is subtle, but effective. I am very pleased with my purchase.

Verified Buyer

Reviewed by Mandyb from Indiana on Tuesday, April 21, 2015

These shoes are great! I have lots of foot issues; wide feet, Mormons neuroma, high arch, and working on a couple bunyons??I bought my usual running shoe size 9 (my foot is really a wide size 8) and the fit is perfect even with my arch support inserts. I have worn them for 12 hours on my feet at work and ran 4 miles 3 days last week! No foot pain or cramping.

Verified Buyer

Reviewed by KatO from California on Thursday, April 16, 2015

That says it all! These shoes are fantastic for trail & street running. Great arch & ankle support and a fantastic price. I now will not buy anything but Salomon for my athletic shoe needs. Have my daughter & husband wearing them too, and they love them just as much! I order my shoes in 1/2 size larger for the toe space, and they fit great! Don't buy these anywhere else than Sierra Trading Post, or you will be paying too much! STP has a great selection of colors & sizes! LOVE STP!

Verified Buyer

Reviewed by Florence from Washington on Thursday, April 16, 2015

I bought these shoes for working out in the yard and they're fine for that purpose. I would not want them to be my trail running shoes, however. The quality of the materials seems middling, as does the traction on the soles. For the price, and for my intended use, they seem ok.

Verified Buyer

Reviewed by Lisa A. from PA on Wednesday, April 15, 2015

I bought a pair of these to help work through a hard case of plantar faciitis when no other shoes would do. They were so great, comfortable and helpful that I ended up buying a second pair close to a year later. The arch is really good, the heel cups extremely well padded and the overall shoe provides very stable cushioning and footing. Great shoes over all.