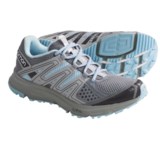 Closeouts. Salomon's XR Shift trail running shoes shift your trail runs into high gear with a lightweight, breathable design that features TPU toe cap and inserts to protect from rocks, and an OS Tendon outsole frame that increases stride efficiency.
Average Rating based on
87
reviews
4.413793
0
5
Verified Buyer

Reviewed by Evie from Arizona on Sunday, October 25, 2015

Great Hiking Shoe, pinch a little near the ball of my foot, but they have lots of miles on them, and I love them!

Reviewed by Mari G from Georgia on Thursday, September 3, 2015

I bought them as running shoes , but they are so comfortable, I don't want to take them off. So, wear them everywhere. )) I walk a lot and my feet never get tired. They are very lightweight and fit well also.

Verified Buyer

Reviewed by Hannah Z from San Diego on Monday, August 31, 2015

I've tried Hoka's, NB, Nike, and too many to count other trail shoes and never really liked any of them until I purchased these Solomons.

They feel sturdy - good support on the base and strong w/out it being stiff shoe. Need them for trail running for a Ragnar Trail race I am doing. Also took them on a long hike up in Boulder Co ... they were Perfect! Only wish was I purchased them sooner.

I am a size 5.5 and normally size +1 in running shoe but on the Salomon Trails I only went up .5 more than my normal size and they fit great both with thin running socks or thicker hiking socs.

Verified Buyer

Reviewed by Nina from Marquette, Mi on Tuesday, August 25, 2015

I am an avid runner. I run paved path and technical trails. I love the way this shoe fits me. I am a women's 11. I have a wide foot but don't require ordering wide shoes. The laces are not the same as the previous pair of Salomon's I owned that were cinch up style. I like the cinch up style better. I love the color which is a light teal.

Verified Buyer

Reviewed by Auntnewtie from Bowie, Maryland on Tuesday, August 25, 2015

I have had several pairs of Salomon's and have loved them all. These are no exception. I have extremely flat feet and these shoes give me great support while being lite weight and comfortable.

Verified Buyer

Reviewed by Linny from Arizona on Saturday, August 1, 2015

I have never been disappointed with Sierra Trading Post. Delivery is always QUICK, returns are easy , and products are first class.

Verified Buyer

Reviewed by Jen from adirondacks on Wednesday, July 8, 2015

LOVE THESE SHOES! So comfortable. I should have ordered a size smaller, but still the best sneaker i've had in a while.

Verified Buyer

Reviewed by EC from STL on Wednesday, July 8, 2015

My first time having a running shoe that is good for trails. They are extremely comfortable and roomy. They are great for needing toe room. I have a larger first toe but not wide feet. This shoe is great for having the room in the toe area but a reg. fit through the heel and arch of the foot. The treads really saved me and my family the first time I wore them, as we hiked on muddy trails and had to climb over a large tree that had fallen and blocked the path. I had to carry our 4 year old so she wouldn't slide into a ravine like parting in the land and was the only one with trail shoes on. The treads did a great job of gripping the land and I didn't slip or slide at all! I recommend these shoes!!

Verified Buyer

Reviewed by Desert Runner from West Africa on Wednesday, July 1, 2015

Good support, compared with many of the newer running and trail shoes that are lightweight. Toe cap is a great feature, given the lightness of the upper mesh. Size is true (I wear a 9), and wide enough not to squeeze. Overall a good shoe and I'll keep buying Salomons...we'll see if it holds up, as some of the other reviewers indicated that other models of recent Salomon shoes have not held up as well.

Verified Buyer

Reviewed by joe from california on Thursday, June 18, 2015

very nice and great shoes

Verified Buyer

Reviewed by Jo Avid runner from Florida on Thursday, June 11, 2015

I've worn these shoes for 3 12hr. shifts and love them so far. My legs feel great when I get home. I was feeling like my legs were tired when I got home from work. That's why I got new shoes and I love these.

Verified Buyer

Reviewed by Lind the older woman hiker. from Sierra Nevada Mountains on Wednesday, June 10, 2015

Very comfortable and stable, but a little narrow. I got medium width and it's rubbing a little on my 5th toe. Good trail shoe though.

Verified Buyer

Reviewed by toofbaby from Michigan on Wednesday, June 10, 2015

I bought these for walking actually. They are very comfortable! The toe box is nice and wide and they feel very stable. They are light weight and airy feeling. I have worn Salomon for years and am never disappointed with a new pair. They are always true fitting and comfy. I will continue to buy the great fitting brand of Salomon.

Verified Buyer

Reviewed by Doglover from colorado on Tuesday, June 9, 2015

True to size, comfortable, don't know yet hpw well they'll stand up to wear.

Verified Buyer

Reviewed by JN from Wisconsin on Tuesday, June 9, 2015

Very happy with this shoe. I ordered my normal size9.5 and the fit was perfect. Very comfortable right out of the box.

Verified Buyer

Reviewed by Debbiker54 from Concord, ca on Tuesday, June 9, 2015

I bought these with the coupon code or deal flyer for a great price, $36. They have a wide sole and good support on the heel and little flexion, as I have plantar fasciitis and shoes without support make my feet hurt. These do not. This is my second pair, so I can't really say how they will hold up. Salomon makes a solid good quality shoe, I have other models of Salomon shoes and just love them, especially when I can get them with the coupon or deal flyer.
One note is that they seem to run a tad bit small. You might want to order 1/2 up from your normal size.

Verified Buyer

Reviewed by JADE from North Idaho on Monday, June 8, 2015

I was super excited to purchase these shoes on Memorial Day clearance. I'm mostly a size 9 and sometime an 8 1/2. Since they didn't have half sizes I went with a 9. Unfortunately they were about a half size too big. I've never owned Salomon shoes before so maybe they generally run large. In person they were very light. I'm bummed they didn't work out for me.

Verified Buyer

Reviewed by nanny from nc on Thursday, June 4, 2015

looks great , very nice shoe

Verified Buyer

Reviewed by Brian ONeil from Colorado on Wednesday, June 3, 2015

Well made, practical, true to size, and comfortable.

Verified Buyer

Reviewed by NOT A HAPPY CAMPER from Massachusetts on Wednesday, June 3, 2015

I started cross coun try skiing this year and bought Salomon boots so decided, after much reviews, to try Salomon shoes. I just started trail running, am a fit 57 year old lady with an active lifestyle.

First off, shipping took forever. In the meantime, I sprained my ankle waiting for these shoes. After recovery, I hit the trails.

These shoes let me down.

First off, they are narrow, so i should have went a size up. None of the reviews i read mentioned this daying they were true to size. I am a meutral runner with a somewhat wide foot and these shoes hurt my feet. Maybe i can break them in, but i usually do not have to break in running shoes.

Secondly, when you trail run, you really need to "feel" the trail. I run hills, rocks, roots, etc and it is pretty important to be able to feel the terrain and adjust your body accordingly. These shoes are STIFF. They have little flexibility and the sensation from ground to feet is interrupted with the stiff design. Even taped and braced, i turned my ankle strictly because these shoes are so stiff and inflexible.

Thirdly, the tread on these shoes is not much different than a road running shoe. The tread has no aggressive features and might be good for dirt paths, but that is about it. I did NOT slip and slid, being fair, but it was also a dry trail with few leaves. I do not think they would hold well on any wet terrain.

The color was ok..but a bit muted for me, but those are irrelevant--cosmetics only and they end up muddy and indistinguishable anyway.
Basically, I am not satisfied with these shoes all and will not buy Solomon's for the trails or even for running again. I got a pair of Brooks trail runners...that is the way to go.

Verified Buyer

Reviewed by Lynn Marie from Wisconsin on Thursday, May 28, 2015

After adding an arch support, the shoe was comfortable enough to wear. It is a beautiful shoe, however, for those who are used to a more supportive arch, they may find it a bit "flat" fitting.
It hugs the foot and gives a side stability.

Verified Buyer

Reviewed by Susannah the Slow from France on Tuesday, May 26, 2015

Based on all the positive reviews on this shoe, I decided to give this brand a try. I've only gone running in them a handful of times and am overall satisfied with their performance. They're light and yet sturdy enough for trail running. There's also plenty of room in the toe box for my feet as they tend to swell a bit when I run. However, I was a bit disappointed that one of the bindings that holds the shoe strings has already broken. I'm sure that it's a defect that doesn't happen often but nonetheless it's worth mentioning.

Verified Buyer

Reviewed by Cathy from Connecticut on Monday, May 18, 2015

I usually order running shoes at least one size larger than my normal shoe size. With these, I ordered my usual shoe size--6--since I have a pair of size 6 Salomon hiking boots. The shoes fit fine and are very comfortable and supportive.



Verified Buyer

Reviewed by Floresta from Catskills on Monday, May 4, 2015

I need a wide toe box but like support around my arch and this is the best trail runner I've found so far for the money. I actually just ordered a second pair so that I have one available when my current pair gives out. Great traction and supportive where it needs to be. I especially like the fact that my foot doesn't slide forward on downhills. Great color too.


Verified Buyer

Reviewed by Bernadette from California on Sunday, May 3, 2015

I have two other pair of Salomon trail running shoes that I love, but these ones, not so much. Where the tongue attaches to the shoe was very lumpy -- so lumpy, in fact, that I ended up with a painful bruise on the top of my foot after one rigorous trail run. I ended up sending them back. Maybe just a defective pair?


Verified Buyer

Reviewed by Ginny Jogger from Minneapolis on Friday, May 1, 2015

The shoes are lightweight, comfortable, and have some extra room in the toe area. I have never worn Salomon shoes before, but I am sold. I tried on a ton of running shoes and just could not find the right fit. I have high arches and none of the shoes I tried had any arch support. The arch in the Salomon is subtle, but effective. I am very pleased with my purchase.

Verified Buyer

Reviewed by Mandyb from Indiana on Tuesday, April 21, 2015

These shoes are great! I have lots of foot issues; wide feet, Mormons neuroma, high arch, and working on a couple bunyons??I bought my usual running shoe size 9 (my foot is really a wide size 8) and the fit is perfect even with my arch support inserts. I have worn them for 12 hours on my feet at work and ran 4 miles 3 days last week! No foot pain or cramping.

Verified Buyer

Reviewed by KatO from California on Thursday, April 16, 2015

That says it all! These shoes are fantastic for trail & street running. Great arch & ankle support and a fantastic price. I now will not buy anything but Salomon for my athletic shoe needs. Have my daughter & husband wearing them too, and they love them just as much! I order my shoes in 1/2 size larger for the toe space, and they fit great! Don't buy these anywhere else than Sierra Trading Post, or you will be paying too much! STP has a great selection of colors & sizes! LOVE STP!

Verified Buyer

Reviewed by Florence from Washington on Thursday, April 16, 2015

I bought these shoes for working out in the yard and they're fine for that purpose. I would not want them to be my trail running shoes, however. The quality of the materials seems middling, as does the traction on the soles. For the price, and for my intended use, they seem ok.

Verified Buyer

Reviewed by Lisa A. from PA on Wednesday, April 15, 2015

I bought a pair of these to help work through a hard case of plantar faciitis when no other shoes would do. They were so great, comfortable and helpful that I ended up buying a second pair close to a year later. The arch is really good, the heel cups extremely well padded and the overall shoe provides very stable cushioning and footing. Great shoes over all.