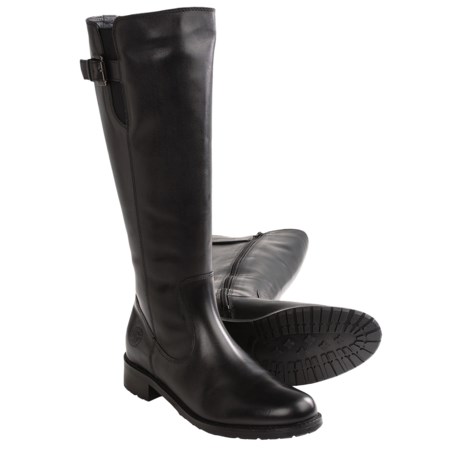 Good looking boots!
Reviewed by Ryan from Colorado on Sunday, September 28, 2014
These look great, my number one concern when buying this type of boot, as I will simply wear them to work and on non-sporty outings in the winter. Even better, though, they are functional! There's fleece lining, so they're warmer than your standard leather boots, and they have treads on the sole, so the wearer won't fall on her face the instant she attempts to walk on snow or ice (theoretically--this claim has not yet been tested, but this wearer knows that many good looking boots (a) have totally smooth soles and (b) are hazardous in icy conditions). Other good stuff? These boots claim to be waterproof (also not tested) and they are light--like, they don't weigh a million pounds--facilitating walking and other foot lifting activities.

Other stuff to know: they are slim. I'm thin enough in general, but my calves aren't skinny. On me, they fit over my legs and skinny jeans, but barely. I sort of like the slimness--it makes them look more polished. Those who store knives and other utensils in their boots, however, may have to look elsewhere.

The footbed is also sort of narrow, but then, my feet are wide and duck-like (fatter in the toes). For me, the boot width is not a huge problem, as my feet seem to adapt to most types of shoes, but if you're duck-footed like me and you don't want your shoes to put pressure on your feet, these are probably not for you.

Finally, I know I said they were warmer than standard leather boots above, but I wouldn't turn to these for deep, wintery conditioned snow walking. They're not summer boots, but they have limits, people.



Similar items and more information in the following areas: