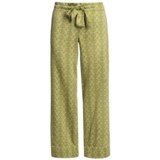 2nds. These soft-as-silk bottoms feel and look like a dream with their smooth hand and partially elasticized comfort waistband.
Average Rating based on
38
reviews
4.473684
0
5
Verified Buyer

Reviewed by Sierra Customer from New England on Wednesday, October 29, 2014

Didn't fit me well. Returned. Color is nice, fabric good quality, just not for my figure

Verified Buyer

Reviewed by Sandy from Florida on Wednesday, May 28, 2014

Love these slacks and will wear them OUT at night - so nice

Verified Buyer

Reviewed by Jules D-E from NC on Thursday, May 22, 2014

These pants fit great. True to size. They are made of silk & drape beautifully. They also feel great. Perfect as comfy PJs or lounge wear.

Verified Buyer

Reviewed by Mia in Arvada from Minneapolis on Saturday, May 10, 2014

I put these on and I head over heels in love with the material, the length, size, color. It could be the time of season, in between winter / spring, but they are majorly staticky and clingy. I almost ripped them off and threw them out. I have this horrible, horrible reaction to cling and static the way some people have a reaction to itchy wool. I thought I was going to go crazy with the statickyness. I'm going to give them a second chance, wait until the summer months and see if the static is seasonal. Otherwise, I will just give these away to someone who doesn't mind the static so much. Everything else is fine - the fit, the softness, the color...

Verified Buyer

Reviewed by Carol from Illinois on Thursday, May 1, 2014

These are great for warmer weather, and cute to boot! Too early to see how well they'll hold up in the long run, but they came through the first wash all right. The satin feels luxurious, but at this discount, it's a great buy too. I usually wear a 00 or 0 and I'm short so, XS was a little on the big size, but not too bad.

Verified Buyer

Reviewed by Bren from Northern MI on Wednesday, April 30, 2014

These will be great pants for summer wear. The fit was perfect. Nice to get them at sure a bargain price as well. I am 5'7" and weigh 143 lbs medium was the size for me.

Reviewed by Dawn from Florida on Wednesday, April 23, 2014

These feel nice, fit perfect, and look cute. I am 5'6" & 125lbs and the XS feels like it was made for me. The back waist has a wide elastic band inside that is lightweight and gives some room to get them on and off easily. The front has a bow that it somewhat of a "drawstring" so you can pull the waist a little more snug if you want (though I find they are just right the way they are and just tie it in a nice bow). I have not washed them yet, so no comment as to how they hold up over time. For the price though, they're a definitely worth it!

Verified Buyer

Reviewed by yvonne from Amarillo, TX on Monday, April 21, 2014

They were perfect for spring summer, and fet very comfortable with a useable drawstring which was very nice.

Verified Buyer

Reviewed by funkymama from New England, USA on Thursday, April 17, 2014

Love these. Love the price. Static cling can be a bit much with poly satin, but what the heck. The fit is flattering, comfortable and true to size. I'm buying more.

Reviewed by Ann G from Washington on Tuesday, April 15, 2014

Sorry you tall folks don't like them, but they're just right on this shorty. Maybe a little on the flimsy side.