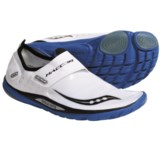 Closeouts. Get back to basics in Saucony's most minimal and lightest shoe yet: Saucony's Hattori minimalist running shoes. Designed for neutral runners, these trainers promote natural foot movement through an nonrestrictive, mitten-like toe box, flex grooves and strategically placed XT-900 outsole panels.
Average Rating based on
51
reviews
4.215686
0
5
Reviewed by yota64 from Illinois on Thursday, May 29, 2014

I have ran out of my hattori's. They are comparable to the vibram's, but without the toes. I have put more than 500miles on mine with no complaints. Just beware they are minimalist shoes, and you need to be used to minimal padding under your feet.

Reviewed by Andy from Tennessee on Friday, September 13, 2013

Very comfortable

Reviewed by miaminate from miami on Saturday, July 13, 2013

I have had my pair of the lace-less hattoris for just over a year now. This shoe is amazing for pavement running as well as other flat surfaces.
an added bonus is that they are great for heavy/power lifting in a gym setting.
I enthusiastically recommend and will replace them with another pair once these shoes begin to wear out.
great introductory shoe for the minimal market

Reviewed by John from Michigan on Wednesday, May 29, 2013

My second pair of Saucony Hattori.

Reviewed by In Denver from Colorado on Thursday, April 4, 2013

I'm a recreational runner, so there's no great running wisdom here. I write few reviews... however, there's a very practical point that all interested in this shoe should be aware of. You may have heard... "if the shoe fits, wear it". In this case, unfortunately, the (Hattori) shoe dos not fit, if you base the fit on the size shoe you typically wear. In the case of the Hattori, the shoe feels (to me) to be a FULL SIZE smaller. That is, I needed to increase the Hattori size by a FULL SIZE higher than I've ever purchased (in my case, I typically wear a 10.5 - 11.0, depending on the shoe's sizing, but need a size 12 Hattori!)..Available sizes and colors are sporadically available, and some Hattori color schemes may be considered a bit extreme by some (including me), further limiting purchase options. I started with a size 10.5 (wanting a "sung" fit) and it was strangling my feet. So, moved to a size 11, still quite tight. I stumbled on a size 12 (which seems to be a more scarce size) in one of my acceptable color schemes... and finally, the fit was right. The shoe is very comfortable, fits nearly like a sock, construction and materials appear high quality (time will tell), For my 2-3 mile runs, they're as much or more than I expected... Too bad there is such a discrepancy in this shoe's size relative to others. Particularly, since finding them locally (and trying them on) may not be an option... leading to unproductive "purchase churn". Caveat emptor...

Verified Buyer

Reviewed by Gymbo from Irvine, CA on Thursday, January 31, 2013

Thie shoe is incredibly light and comfortable. I originally bought it for running, but am using it for a cross-trainer as well as the zero-drop and light weight of the shoe make it great for lifting as well. It really helps you drive through your heal on lifts. I would highly, highly recommend.

Verified Buyer

Reviewed by joe from vermont on Thursday, January 17, 2013

The back heal velcro ripped in 7 uses. I'm returning them. They also don't breathe well at all.

Verified Buyer

Reviewed by Rystin from Wilmington, NC on Tuesday, December 11, 2012

This is a shoe you have to get used to, being minimalist. But it's a great shoe, cushioning is great, lightweight, and overall a great shoe! Warm up to long distance running in it though. You might get a blister here or there as you get used to the shoe, but overall it's a well worth buy.

Verified Buyer

Reviewed by True Real, but not a Trill. from NoCal, California on Friday, December 7, 2012

These shoes are awesome. Better than any barefoot shoes and lighter than any running shoe. I ran a 13.1 half marathon in these shoes and plenty of support. They wear out really quick, which is why I ordered 3 pairs. Love the lightweight and flexibility, perfect for working out at gym. Not so much outdoors b/c of mesh and lightweight material. They wear a bit tight at first, but at the end of the cycle they stretch to the point where my feet move around while on a balance ball. Best shoe I have ever worn to workout in, highly recommended.

Verified Buyer

Reviewed by FrizzleFry from New York. on Tuesday, November 27, 2012

The material on the top of the shoe - over the instep and to the toe - is especially thin. Likely to wear out very quickly with just the top of your toes rubbing into it.