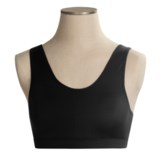 Closeouts. Saucony's Motion Adjust sports bra is designed to go with the flow — your flow, that is. Encapsulated cups, adjustable straps and a sturdy hook-and-eye clasp at the back ensure that the only movement happening is the kind you initiate.
Chafe-resistant construction
Stretchable, breathable molded cups and wicking lining
Stain-resistant fabric
Adjustable straps
Encapsulated cups
Impact rating: High impact
Clasp: Three hook-and-eye clasps at back
Lining: 96% Sorbtek® polyester, 4% spandex
Care: Machine wash/dry
Made in Sri Lanka.
Average Rating based on
44
reviews
3.977272
0
5
Verified Buyer

Reviewed by scout mom from MI on Monday, April 4, 2011

I bought two of these in my size and took a chance that the last of these available in a smaller band size might fit. It does not. So I will be returning it. BUT I like the ones I bought in my size--very nice with a T-shirt.

Band Size: Feels true to size
Best Uses: Everyday Wear, Gym, High Impact Exercise, Jogging, Low Impact Exercise
Cup Fit: Feels true to size
Describe Yourself: Comfort-oriented, Conservative, Practical
Pros: Comfortable, Durable, Good Support, Straps That Do Not Slide
Was this a gift?: No

Verified Buyer

Reviewed by Angel from Indiana on Saturday, January 15, 2011

Bra was very comfortable and supportive while running. Love that it is easy to get off unlike most sport bras. Straps did not slide and band stayed put.

Band Size: Feels true to size
Best Uses: Gym, High Impact Exercise, Jogging
Cup Fit: Feels true to size
Describe Yourself: Fitness nut
Pros: Breathable, Comfortable, Easy to Get Off, Good Support, Straps That Do Not Slide

Verified Buyer

Reviewed by Norm from Sacramento, CA on Tuesday, December 14, 2010

Seems to fit and work great so far! Glad I got it!

Band Size: Feels true to size
Best Uses: Gym, High Impact Exercise, Jogging
Cup Fit: Feels true to size
Describe Yourself: Comfort-oriented
Pros: Breathable, Comfortable, Durable, Good Support, Straps That Do Not Slide

Verified Buyer

Reviewed by Sydney from Maine on Tuesday, December 7, 2010

As a heavy-breasted gal, I put a sports bra through its paces. I find this one to be well on the way a great bra, with many excellent design features. It's just a tad small at the cup.

Band Size: Feels true to size
Best Uses: Everyday Wear, Gym, High Impact Exercise
Cons: Cups somewhat small, Hooks seem flimsy
Cup Fit: Feels too small
Describe Yourself: Comfort-oriented, Practical
Pros: Adjustable, Breathable, Comfortable, Durable, Good Support, Straps That Do Not Slide

Verified Buyer

Reviewed by practical shopper from eastern wa on Friday, November 26, 2010

have not tried these out at the gym yet, but a comfortable everyday bra with good support

Band Size: Feels true to size
Best Uses: Everyday Wear
Cup Fit: Feels true to size
Describe Yourself: Practical
Pros: Breathable, Comfortable

Verified Buyer

Reviewed by aby from Ozark, MO on Sunday, November 14, 2010

I like this bra but when I run, one of the straps tends to slide down. Otherwise its a great bra for the price. It gives good support and is easy to get on and off.

Band Size: Feels true to size
Best Uses: Gym, High Impact Exercise, Jogging
Cup Fit: Feels true to size
Describe Yourself: Comfort-oriented, Practical
Pros: Breathable, Comfortable, Good Support

Verified Buyer

Reviewed by Woodscreature from Pendleton, OR on Monday, November 1, 2010

Great bra for around home and low impact activities.
I don't do high impact anymore. A bit too heavy for hot weather wear. Fantastic sale price for name brand item.

Band Size: Feels true to size
Best Uses: Everyday Wear, Gym, High Impact Exercise, Jogging, Low Impact Exercise
Cons: Too heavy for summer wear
Cup Fit: Feels true to size
Describe Yourself: Comfort-oriented, Conservative, Practical, Stylish
Pros: Comfortable, Durable, Good Support, Straps That Do Not Slide

Verified Buyer

Reviewed by cac from St. Petersburg, FL on Monday, October 25, 2010

I was suprised this bra fit so well. I ordered the 36DD but I wear a 36DDD. I had spent alot more money on other exercise bras and was not as happy with the fit and support as I was with this bra. After I got the first bra I ordered another one because I liked it so much. I wear it to do Zumba and weight training.

Band Size: Feels true to size
Best Uses: Everyday Wear, Gym, High Impact Exercise
Cup Fit: Feels true to size
Describe Yourself: Comfort-oriented
Pros: Comfortable, Good Support

Verified Buyer

Reviewed by Getting Back in Shape from Evansville, IN on Thursday, September 30, 2010

So much easier to put on and take off than my UnderArmor exercise bra! Not sure I get the same degree of support and lift, though. Comfortable enough to wear throughout the day. Would definitely purchase this again.

Band Size: Feels true to size
Best Uses: Everyday Wear, Gym, Low Impact Exercise
Cup Fit: Feels true to size
Describe Yourself: Comfort-oriented, Practical
Pros: Breathable, Comfortable, Durable, Good Support, Straps That Do Not Slide

Verified Buyer

Reviewed by maybe nextime from WA on Wednesday, September 22, 2010

Order your regular size. I ordered a size up (kept same cup size) and unfortunately it was too big. (my regular size wasn't available).

Band Size: Feels true to size
Best Uses: Gym, High Impact Exercise, Jogging, Low Impact Exercise
Cup Fit: Feels true to size
Describe Yourself: Comfort-oriented, Practical
Pros: Comfortable, Durable, Good Support