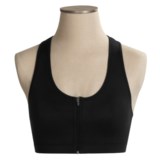 Closeouts. The Nexus sports bra is where comfort and ultimate support meet. Saucony made it with a zip-front closure and encapsulated cups so you can go from yoga to Pilates to high-impact cardio with ease.
Moisture-wicking lining
Comfort straps
Encapsulated cups
Racerback styling for full range of movement
Impact rating: High
Clasp: Front center zip
Lining: 96% Sorbtek® polyester, 4% spandex
Care: Machine wash/dry
Closeouts. Sri Lanka.

Runs small, order one size and cup larger.
Average Rating based on
61
reviews
3.426229
0
5
Verified Buyer

Reviewed by berny from Niagara Falls, NY on Tuesday, October 18, 2011

I was disappointed the fit and inner band under the breast is not smooth. My skin is sensitive to abrasive material.

Band Size: Feels too big
Best Uses: Everyday Wear
Cons: Uncomfortable
Cup Fit: Feels too big
Describe Yourself: Comfort-oriented, Conservative, Practical
Pros: Breathable
Was this a gift?: No

Reviewed by High Impact Exerciser from New Mexico on Friday, September 2, 2011

Overall size is too small and it is hard to zip.

Band Size: Feels too small
Best Uses: High Impact Exercise
Cons: Band Too Tight, Difficult To Get On/Off, Uncomfortable
Cup Fit: Feels too small
Describe Yourself: Comfort-oriented
Was this a gift?: No

Verified Buyer

Reviewed by Linda from Waynesboro Va on Friday, July 8, 2011

I can not rate this product cause it did not fit.
It looked great but the size is not true to size.
I wear a 34 D and ordered such and it was more like a 30 B. I could not even zipper it. But the quality of the bra looked great. I have another one by a different company and very similar and it feels great. I imagine this one would be the same had it fit.

Band Size: Feels too small
Best Uses: Everyday Wear, Gym, High Impact Exercise, Jogging, Low Impact Exercise
Cup Fit: Feels too small
Describe Yourself: Comfort-oriented, Conservative, Practical, Sexy, Stylish
Was this a gift?: No

Verified Buyer

Reviewed by pelmel from Lexington on Tuesday, March 29, 2011

This is a very supportive bra but the cup size was small and so it was difficult to zip. With certain movement, it would unzip itself. Perhaps if you can find the perfect fit this would work. I returned mine.

Band Size: Feels true to size
Best Uses: High Impact Exercise
Cons: Flattens Bust
Cup Fit: Feels too small
Describe Yourself: Comfort-oriented, High-end shopper

Verified Buyer

Reviewed by saf from nyc on Thursday, January 27, 2011

I bought this bra even though others had said it was a bit small, but it is a bit small. I am a thin small busted woman and I can barely zip it up and once I do it is way tight. The support is good, but there are better sport bras that front zip elsewhere.

Band Size: Feels too small
Best Uses: Gym, High Impact Exercise
Cons: Flattens Bust, Uncomfortable
Cup Fit: Feels too small
Describe Yourself: Eclectic
Pros: Breathable, Straps That Do Not Slide

Verified Buyer

Reviewed by Ms Comfort from NY on Tuesday, November 23, 2010

This is a great product very comfortable with great support.

Band Size: Feels true to size
Best Uses: Everyday Wear, Gym, High Impact Exercise, Jogging, Low Impact Exercise
Cup Fit: Feels true to size
Describe Yourself: Comfort-oriented, Practical
Pros: Breathable, Comfortable, Durable, Good Support, Straps That Do Not Slide

Verified Buyer

Reviewed by Linda an exercise enthusiast from New York on Thursday, November 11, 2010

While exercising. Jogging.

Band Size: Feels too small
Cup Fit: Feels too small
Describe Yourself: Comfort-oriented, Practical, Stylish
Pros: Comfortable, Durable, Good Support, Straps That Do Not Slide

Verified Buyer

Reviewed by Tennis fan from Kennesaw, GA on Wednesday, October 6, 2010

This is a great sports bra for high impact exercises. NOTHING moves when you're wearing this bra, but it does have a bit of a "flattening" effect.

Band Size: Feels true to size
Best Uses: Gym, High Impact Exercise
Cons: Flattens Bust
Cup Fit: Feels too small
Describe Yourself: Comfort-oriented, High-end shopper
Pros: Good Support, Straps That Do Not Slide

Verified Buyer

Reviewed by Shirley Bloosom from Worland, Wy on Tuesday, September 28, 2010

Luv the front zipper.

Band Size: Feels true to size
Best Uses: Everyday Wear, High Impact Exercise, Low Impact Exercise
Cup Fit: Feels true to size
Describe Yourself: Comfort-oriented, Conservative, Practical, Sexy, Stylish
Pros: Breathable, Comfortable, Durable, Good Support, Straps That Do Not Slide

Verified Buyer

Reviewed by Christy Sue from Sundance Wyoming on Thursday, September 16, 2010

I can not call this a sports bra, it had several layers of material making it not very breathable and the cups were padded. Was very disappointed for being a Saucony.

Band Size: Feels too small
Cons: Band Too Tight, Uncomfortable
Cup Fit: Feels too big
Describe Yourself: Comfort-oriented, Practical, Stylish
Pros: Durable