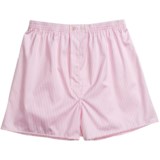 Closeouts. Derek Rose's boxers are creature comforts of the underworld from the world's leading nightwear company, Derek Rose.
Average Rating based on
96
reviews
4.020833
0
5
Verified Buyer

Reviewed by Victor Vain from CT on Tuesday, December 27, 2016

Great material and fit

Verified Buyer

Reviewed by Older male from New Brunswick on Thursday, December 22, 2016

I have bought these over the years. They are good quality.

Verified Buyer

Reviewed by Not too tight from California on Friday, December 9, 2016

Comfy & loose like boxers should be, but still provides some support.
Leg holes aren't huge - I'm a runner and I find them to be just big enough to comfortably move through. Definitely on the tailored side as I've had super baggy and loose boxers which I didn't like. So far, they haven't immediately become too wrinkled from a few washings like some cheaper boxers do.

Reviewed by auntmausy from NewYork on Thursday, July 7, 2016

Finest cotton fabric and exceptionally well tailored. The fit of these boxers is perfect. Do not hesitate to purchase Derek Rose boxers!!

Verified Buyer

Reviewed by Butch from massachusetts on Friday, April 1, 2016

The standard against which all others are judged

Verified Buyer

Reviewed by Dave F. from California on Sunday, February 28, 2016

These remain the best boxer shorts I've ever worn. They are as durable as they are comfortable -- well made and good patterns/colors too.

Verified Buyer

Reviewed by cargos most of the time from CA on Monday, February 22, 2016

High quality all cotton boxers. Couldn't be happier.

Verified Buyer

Reviewed by Laird from Abingdon, Virginia on Monday, November 9, 2015

A fantastic product at a fantastic price. I have been a bigfan of these boxer shorts for several years. The fit is comfortable with no "creeping or bunching". Thy fly design is user friendly and does not gap. The material is. A very soft cottonwoven not printed like other brands. I highly recommend these shorts for everyday wear.

Verified Buyer

Reviewed by Joseph from California on Friday, August 14, 2015

Excellent fit and comfort. Premium cotton.

Verified Buyer

Reviewed by Clone from Texas on Monday, June 1, 2015

These are very soft and comfortable!

Verified Buyer

Reviewed by pacifica from california on Monday, May 25, 2015

Very nice cotton, good fit and very comfortable.

Verified Buyer

Reviewed by Ziggy2 from Pittsburgh on Saturday, April 4, 2015

Still the best drawers in my drawer. Good wear and good deal at sale prices. Keep stocking these European gems!

Verified Buyer

Reviewed by Fred R. from Los Angeles on Wednesday, November 19, 2014

I've ordered many of these - quality is very good - BUT fits are erratic and often mislabeled. I've compared 10 pair of these and the fits are all over the place. some mis labeled. Some times the outer package sizing does not match the labeled sizing. Sometimes both are wrong. It means a lot of the value goes out the window with the cost and hassle of returning to STP.

You have to really want these and be prepared to return half of the ones you buy (that's my experience) to get what you want.

Verified Buyer

Reviewed by Will from New England on Friday, October 3, 2014

I've been buying these boxers for many years now. The only boxers that are better than these were made by Goodhew and were Egyptian cotton, but as those are no longer produced, these are my favorites.

There's a lot of variety in the fabrics; they're all quite nice. The fly actually unbuttons on top, which isn't practical, but is a nice styling touch [and you can just leave them buttoned].

I think the main thing I can say about them is just that they're not junky. Most boxers are really junky. And these aren't. Which is great.

Verified Buyer

Reviewed by Julia from NYC on Tuesday, September 23, 2014

My husband loves these boxers. They're high quality all-cotton, with a little retro feel due to the buttons at the waist.

Verified Buyer

Reviewed by Max from Seattle on Sunday, September 14, 2014

It is a pleasure to wear these boxers. When it comes to morning dressing I am delighted to find these in my drawer.

Verified Buyer

Reviewed by donps from San Antonio area on Tuesday, September 9, 2014

These underwear shorts are an excellent product. They are sized correctly. They are well made. They are designed to be, and are comfortable-

Reviewed by Lowell888 from Metrowest Boston on Monday, August 25, 2014

I bought three pair of the Derek Rose boxers, wore them for a few weeks and bought another three pair. (I'm replacing my Lands End boxers, which all are wearing out pretty much simultaneously.) The Derek Rose fabric is light weight, the tailoring is good, the fabric patterns and colors are appealing and so far very color-fast. The fit is on the trim side, which works for me but might not be what everyone likes. I'm pretty happy with these.

Verified Buyer

Reviewed by ChesterCountyDillittante from Chester County PA on Saturday, June 21, 2014

Something is still great at STP! Love these, the same as always. Excellent fabric, well made and consistent size.

Verified Buyer

Reviewed by El Presidente from Lake Tahoe on Thursday, June 12, 2014

Been wearing this brand for years. Although a bit pricey, both pajama bottoms and these shorts outlast cheaper brands by far.
Quality material, attractive bright colors. Fit is a bit big in the butt but very comfortable.

Verified Buyer

Reviewed by Bog Cat from Cape Cod, MA on Tuesday, April 29, 2014

My husband has worn Derek Rose pajamas for years. Great fabrics, design, manufacturing not to mention long lasting! He decided to try the boxers. What took him so long? Same high quality fabric and workmanship. He says they are roomy and comfortable. As they are all cotton, remove from dryer promptly to avoid wrinkles.

Reviewed by R.V. from NYC on Sunday, April 27, 2014

Seem like o.k. quality but for a large (I'm 35 waist) they ride up in the back way too much and yet the rise is too long. Can't help but think I got a reject.

Verified Buyer

Reviewed by Grandpa Joe from Colorado on Tuesday, April 8, 2014

These are very comfortable boxers. I have used this product before and know that it will last for years. Every now and then I buy a cheaper set on sale somewhere and I always kick my self for doing that . I'm through experimenting with other brands. The discounts make them a no-brainer.

Reviewed by Laird from Virginia on Tuesday, April 1, 2014

All expectations were met. I am a big fan of these boxers. The material, cut, hand and workmanship are all top drawer. I have no problems with a gaping fly or "bunching. With these shorts I can count on all day comfort. My wife says they make great lounging shorts as well.

Reviewed by Foodhomehelp from Virginia on Tuesday, March 25, 2014

Good value.
Cotton fabric a little stiff

Reviewed by mathew d from NYC on Thursday, March 6, 2014

This is my 2nd pair of boxer and I have a bathrobe and its all well put together Ill buy Derek Rose again if the price is right

Reviewed by CB from Thank God for Texas on Sunday, March 2, 2014

The waste is a bit smaller than advertised, but everything is perfect! Even as such, theyre not "too" or uncomfy. No probs w unwanted openings or length of shorts being too small.

Reviewed by Cece the gf from MA on Saturday, November 16, 2013

My SO and I both love these boxer shorts, of which he has purchased quite a few in a variety of colors. The fit is perfect and he has not experienced an issue with the fly inadvertently opening. The buttons really are functional. Additionally, we enjoy that you can match the boxers of this line with sleepwear. Please continue to stock these!

Reviewed by Anonymous from NC on Friday, July 26, 2013

Very nice quality fabric. Generously cut but not sloppy.

Reviewed by GLC from CT on Friday, June 14, 2013

The button top fly doesn't work well. Without a sewn in fly, the gap tends to remain open. Tough to lounge in your boxers with your junk on full display!