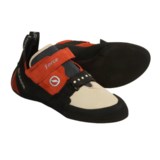 Closeouts. The Vibram® XS grip outsole and power-surging X-Tension midsole on these Scarpa climbing shoes are sure to make you an edging, jamming and smearing force on the rock wall.
Average Rating based on
30
reviews
4.333333
0
5
Verified Buyer

Reviewed by Matt the Climber Hiker Skier from NYC on Wednesday, August 13, 2014

This is my second pair of this shoe. Although it isn't as aggressive as other models, I can wear it all day without worry about discomfort. I particularly like it outside, where being comfortable is of the utmost concern. The leather also seems very odor resistant. I've had other shoes that I couldn't bury far enough in a closet, but these seem to take care of themselves.

I sized about half a size down after measuring carefully because the leather will stretch. It may be possible to size a whole size down, but I wouldn't recommend it if you're looking for a shoe that meets the goals that I described above.

Reviewed by Alex from Virginia on Tuesday, May 6, 2014

I've been wearing these guys nonstop for better part of a year with both indoor and outdoor climbing and the rubber on them is fantastically sticky. I have wider feet and the first few times i had them on, i over tightened the bottom strap and they were a bit on the crushing sides but after the initial break-in period they fit like a glove. Highly recommend.. they're not as aggressive as other shoes but they make up for it by having amazing rubber and being super comfy.

Verified Buyer

Reviewed by Evan from Illinois on Monday, April 28, 2014

I have used these about 5-6 times at the gym and they seem to be a nice shoe. The do not have a strong edge on them and they are not agressive. They are just a nice, easy climbing shoe.

Reviewed by Jane from Massachusetts on Tuesday, January 21, 2014

I ordered these for my son who climbs at school when he gets the chance. They arrived quickly, fit him perfectly, and he say the are "great"

I was concerned about the sizing given the comments online, but I ordered what should be his size, and he said they fit fine. Climbing shoes are suppose to be tight!

He's happy, therefore I'm happy~

Reviewed by Verticalbound from Wisconsin on Saturday, January 18, 2014

I'm a 50 year old climber who spent some earlier years guiding all over the US and Canada. Worn through many shoes in my time
and still puling on the occasional 12's but spend most of my time on 11's.

That said, I put these on right out of the box and put them on a bunch of various 10's and they were great. Worked well on 11's also but
are a little stiff and need some time to break in. I'm used to a thinner shoe than these however they were pretty good right out of the box.

I did notice even though lined they did stretch out a little bit and conformed to my foot pretty well.

Good quality materials, rubber is good and wears well. You could keep these on all day if you wanted. I bought 2 different sizes, half size up
was the shoe I put to the test right away and kept them on all day. Half size down will be better for the harder 11's and 12's.

You cant go wrong with these shoes. No they are not an aggressive profile but you don't need that if you've been climbing hard for a lot of years,
you foot is stronger than people just starting out.


I like them, I ordered 4 pairs!

Reviewed by realpro from East Coast on Saturday, January 18, 2014

Can tell you how well it works, as I trusted the "it runs small" indicator and got a half size up,
and it is too big. Unfortunately, the size I need is not available at this time. So, my street (shoe) size is 9.5 US,
but it seems I need 41.5 in this shoe.

Reviewed by Hobbit feet USA from California/Colorado on Tuesday, January 14, 2014

I got this pair as a 43 1/2. I wear a 43 and my husband a 42 +. They are too small for me but for his 4E width 42 feet 43.5 works great. These fit wide feet and velcro is sweet for fast put on. They look good too. I did mess up the billing address and they held order for us ready to ship till they got our info.
They filled it and did not put back on shelf which was great. I am sure these fit narrow feet with right length. But all hobbit feet out there should try these!

Reviewed by Climbing Dad from San Diego on Friday, November 22, 2013

It seems the hardest part of buying climbing shoes online is the sizing. I bought a 43.5 for my son who is 10 1/2 street shoe and I wear an 11. I figured if they were too big for him daddy would get a new pair of shoes. Out of the box they were extremely tight for me and my toe knuckle was slightly bent. After a few sessions they did loosen up a bit and I could use them. They weren't comfortable but had a "performance fit." My son is very happy with them using them primarily outdoors bouldering on granite edges. They are a good balance between comfort and tight enough to climb well for his 10 1/2 foot. They would not be an all day shoe for an 11 foot. He did say that he was working a problem that had a key micro-edge little pocket and he taped the back of his heel to really cram his toes forward. Other people have mentioned that this is a fairly stiff shoe and the rubber on the sole is thick so it's not a super supple, flexible shoe. So this is probably not the best for super aggressive indoor climbing. However, this is a great all around shoe that will worrk in the gym but is probably better for granite slabs and edges. With a STP coupon the price was fantastic for the quality of the shoe.

Reviewed by Kurtz from Connecticut on Monday, November 18, 2013

Can and do wear these shoes all day for long trad climbs. Too bad they're being phased out.

Reviewed by Nick from California on Wednesday, August 28, 2013

Picked these up for a killer deal, since I needed to send my Miura's in to get resoled and didn't want to be left without shoes. Compared to my Miuras, these are more comfortable and broke in in one day. They are thicker and less "feely", but overall I'm satisfied. They are comfortable enough to be worn all day or for a long climb and they feel solid enough to me. I've only had the chance to test them indoor at a gym.