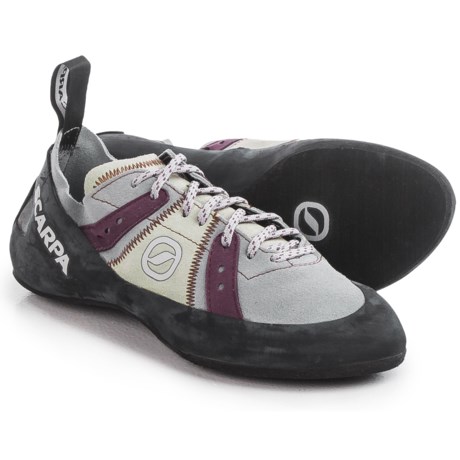 Always the eternal question with climbing shoes. Hopefully, I can provide some perspective here: I wear a 39 in these, and I tend to wear a womens 7-7.5. I'd recommend trying on scarpa shoes at an in person store, and then sizing up at least a half size for these, depending on how you like them to fit. Fortunately, with SierraTradingPost's exchange policy, it's not too expensive to get another size. Unfortunately, you kind of just have to make an educated guess and use that as your starting point.

I wear an 8.5 shoe (sometimes an 8), and I bought a 39.5 for these climbing shoes. They are perfect for me. If you wear a solid 8.5 shoe size, I might suggest buying a size 40 instead. Good luck!

I wear a size 9 and ordered 40.5. The box says they are a 8 2/3. They were extremely tight at first, but they do stretch because there is no liner. I wore them in the shower and climbed in them while still wet, then stuffed them with newspaper to keep them stretched. The technology forces the toes towards the front of the shoe, so when not climbing they are tight on the heel (Achilles) and my great toe has a slight bend. There are slits in the rubber at the toe to prevent pain at the joint. They also bow out at the ankles. When climbing and pressure is put on the toes, all this completely disappears and they fit perfectly. I also put moleskin in the heel to prevent blisters from the stitching. My coach at the gym said these shoes have crazy technology and were nice high end shoes. I LOVE them. I think you could get a size 40 and be happy.

Personally, I normally wear a 8.5-9 and have wide feet and I got a 8 2/3. They fit great - nice and snug as climbing shoes should be. I hope that gives you something to go off of!