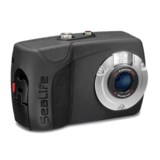 2nds. Capture the vivid colors and unique life of the underwater world with SeaLife's Mini II waterproof digital camera. The 9 megapixel lens takes high-resolution images, and the rubber-armored design is depth-tested to 130' and shock-tested for drops of 6'.
Average Rating based on
6
reviews
3.666666
0
5
Reviewed by Vani from Glew, bs. as. argenstina on Saturday, August 10, 2013

Compre esta camara como opcion para que la manejen mis hijas y es perfecta, super resistente y sencilla de usar, la calidad de las fotos es bastante buena.

Reviewed by Scuba Dive from Houston, Texas on Thursday, August 1, 2013

This is a good, quality product. It is not the fasted or the bestest, but if you are looking to take pictures underwater, it is hard to beat the price point. Easy to use, really solid, it can take beating and still keep on clicking.

Reviewed by subzero from PA on Wednesday, May 29, 2013

used this in the bahamas, it took decent enough pics for the price. dont get me wrong u won't end up on the cover of national geographic,but it does take perfectly servicable underwatre snapshots. get this if you want a nice compact camera for scuba diving, dont get it if you are total camera/photography snob.

the flash does not seem to be to efective, i found my pics are better without it anyway.

oh yea, and the case has a nice grippy rubber coating on it, feels great in the hand.

wish the batery life were better, found out i could stretch it by turning it off during the uneventful portions of the dive, it turns on fast enough when something interesting shows up

Reviewed by JDM from Jersey on Friday, May 24, 2013

Used this camera for snorkeling and kayaking on vacation and got some great shots. The camera is fairly compact and feels very solid. Very easy to navigate the menus too. I didn't test the durability all that well, but have seen videos online of it getting run over by a truck, so I'm assuming it can take a pretty serious beating. Image quality could be slightly better, but I was really happy with all of the photos overall, and for the price you really can't beat it.

Reviewed by Superfly from Philadelphia, PA on Friday, May 24, 2013

I have not been able to kill this camera, I use it for hunting, fishing and have even gotten some nice underwater photos while snorkeling in St.Lucia recently. You can get a wide angle lens that lets you shoot underwater close ups online for about $50. Sure it's not as sophisticated as some point and shoot cameras, but those cameras aren't nearly as durable or as waterproof. I've dropped the Mini camera a few times while hiking and had no problems.

Reviewed by Montana Mom from Montana on Monday, May 13, 2013

This camera was previously used as it had some underwater photos not deleted in its memory, but it appeared to be in excellent condition. We bought it purely for it's shockproof/waterproof exterior for our 9yr old to experiment with. She is thrilled with it so we are happy as long as it holds up after a few bumps and drops. Picture quality is mediocre in low light, using the zoom and with anything moving. The video has no sound. We did not buy it to take underwater but to survive a drop in the river. Indoors the flash has very short range and I believe the zoom is 3x digital, not optical so photos have more blur and graininess when using the zoom. This camera has few options so is easy for a child to operate and has an easy-to-grip surface. We have a couple nicely lit and sharply focused photos taken outdoors with stationary objects so am pleased it can do a good job under certain conditions. I do think this is the least expensive waterproof camera I have found.