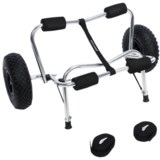 Closeouts. Seattle Sports' Deluxe boat cart makes moving kayaks and canoes simple and painless. It has a sturdy, double-leg kickstand and collapses for low-profile storage.
Average Rating based on
13
reviews
3.846153
0
5
Reviewed by cedar from California on Saturday, June 20, 2015

We used this one time to cart a 60# kayak a very short distance from our campsite down to the water's edge. It seemed to work fine on that weekend trip and held the boat nicely. Then a week later sitting in our garage, one of the wheels self destructed -must have been previously cracked because the hub completed broke away from into two pieces! This is completely unreapairable and we are grateful it happened in the garage and not on the trail considering we are about to head out on a 10 day trip that entails 80 miles of paddling and 8 portages in a wilderness area. DON'T buy it.

Verified Buyer

Reviewed by Grasscycler from Seattle on Tuesday, September 23, 2014

A great addition to boating accessories. A must have for solo trips with extensive gear. Love that it disassembles and stores easily.

Verified Buyer

Reviewed by Cinderbilly from Flagstaff on Sunday, August 10, 2014

A good design but I had to send back the first one as the arms that slide together would not fit on one side and then I couldn't get the other ones apart. The second one came and I was able to get together but one wheel will not turn so I think all I need to do is loosen the bolt a little and it will be fine.

Verified Buyer

Reviewed by WRC from El Dorado Hills, Ca. on Tuesday, July 29, 2014

Cart arrived almost completely assembled. Seems to be strong enough to move our kayaks with no trouble. Used it on harder surfaces and works very well, but will have to test it on loose soil or sand. Only change I would like to see is a better way to secure the tie down straps to the kayak cart. On sale it was a great buy.

Reviewed by Greenscales from Baja CA via San Gabriel Valley on Wednesday, July 16, 2014

I have used it for 2+ years to access lakes in the Sierras and a lot in Baja for an old Cobra Tourer w/a ton of fishing gear. The wide base means less chance of tipping over - a problem when i am trying to pull it loaded with 8'+ rods and fish up a rutted out dirt "launch ramps" dug into some ocean bluff below Ensenada. Low maintenance and rugged. 2 -minor issues, but for most carts - wish it could track through soft sand/dirt better - makes it hard when it sinks in. 2nd - can be a bit difficult jostling the loaded kayaks scupper holes to line up with the hypalon pads, necessary to center the kayak and as a grip point to reduce the kayak slipping on the cart. Otherwise a great buy.

Verified Buyer

Reviewed by beht from plymouth, ma on Monday, June 23, 2014

Comes with the wheels attached. All you need to do is snap the the frame together. Used it the weekend, not bothering with the straps and the kayak stayed in place as we wheeled it along.

Verified Buyer

Reviewed by Jeff from Merrill, WI on Tuesday, May 13, 2014

I really like this cart. Great concept. I was not able to assemble the wheels to the hubs with the lynch pins that were provided, however, until I ground them down to fit. Not a big deal. If you don't have a grinder handy to modify them, a local hardware store such as Ace Hardware should stock this type of pin for less than a buck in a size that works. Now it is easy to use and exactly what I was looking for at an exceptional price/value!

Reviewed by Onefish7 from Tamps, FL on Sunday, November 17, 2013

I've been wanting a boat cart for my kayak for over a year now and finally found the right combination of quality, easy, and price here on Sierra Trading. This cart is well built, very easy to use, and collapses nicely for stowing in the kayak. Had it just one week and used it twice. Worked exactly like I was expecting so I gave it 4 stars. The only reason it didn't get 5 stars is the initial smell of the rubber tires and straps that took a few days to get rid of. Left it out on the back porch a few days and the smell mostly went away. I am sure it will go completely away over time.

Would recommend anyone looking for a solidly built, easy to use, and well priced cart to buy this one here. I shopped around for a long time for one of these and this one was clearly the best. For all us Duck Dynasty fans, it makes me happy, happy, happy!

Reviewed by Charlie from Arizona on Monday, October 21, 2013

Nice kayak cart. Only issue is the wheel bearings are pre-greased with the smelliest grease! You really don't want to drive around with the cark in the back of the SUV as it will stink up the whole car. If you're putting the cart in the back of a pickup, or in the trunk it shouldn't be a issue.
If it weren't for the smell 4 or 5 stars.

Reviewed by Nattack from Alaska on Sunday, August 25, 2013

Wheel pins don't fit snug in holes and the wheels fell off during first use. Design leaves something to be desired as far as securing straps. Bars don't feel particularly solid. With some reinforcement I think it will work for a little while, but I'm wishing I had spent a little extra and gotten a better cart.