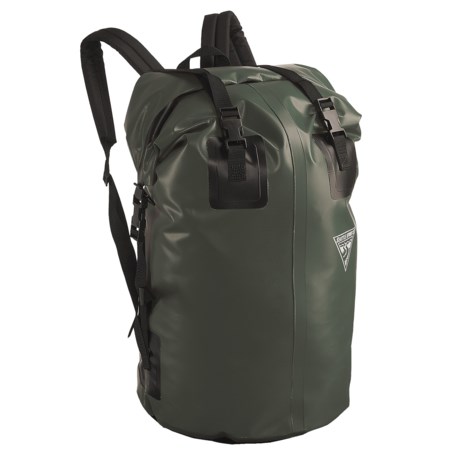 It's about the size of a medium duffle bag. Slightly understuffed it could fit in an overhead bin. I agree, it's not 63L! It is truly waterproof. The handles will hold it, but not the backpack straps. Backpack straps will be fine for clothing and a few small devices, but not for lots of weight such as food + multiple cameras.

It might be too big for a 12 year. I got it for my wife and I think it is a good size for her and she is about 5 foot 2 inches. I think medium is the correct estimate. I have seen bags listed as large that are over 100L.

This is Seattle Sports medium for this bag. It is approximately 63L.

The volume is indeed 63 litres if you stand it on the bottom, hold it up and leave it open. The entire volume is about 63 liters. But you need to close it to make it waterproof and when you do, as you roll it down to secure it the volume is less. Every time you roll the bag to secure it and make it waterproof with its 4 attached clips, the bag is reduced in size. If the bag is rolled down to the max the clips will secure it, the volume is about 40 liters. A very durable daypack size. You can also squeeze the air out if you have soft items like clothing and then roll it up and the bag seems even smaller. It is a great bag and a great buy. I think you will like it. Strong. Waterproof. Adjustable.