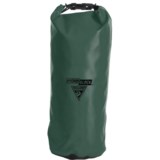 Closeouts. Rugged and long-lasting, the Seattle Sports waterproof dry bag is ideal for keeping your gear and clothing dry and protected during outdoor adventure.
Average Rating based on
84
reviews
4.464285
0
5
Verified Buyer

Reviewed by Lawyer Joe from New Mexico on Friday, July 15, 2016

So far so good. Doesn't seem to be very durable, but it has worked well so far. Great price.

Verified Buyer

Reviewed by Nick the Nomad from Tanzania on Tuesday, January 5, 2016

Big, waterproof, heavyweight material. Just what I was looking for. Fits inside my pack, for simple waterproofing solution. Important when the rains come and I can use my (non-waterproof) current pack that I love so much.

Verified Buyer

Reviewed by Keri swim,hike,fish,bike,ski,kayak from Wisconsin on Sunday, January 3, 2016

I have owned several of these already and the large is perfect for storing my down sleeping bag, big agnes sleeping pad, and hiking pillow during kayak and canoe river trips for added security after rolling them closed we can leave additional air in them to encourage them to float if they would go over board and allows for us to lash clip them to each other or the canoe. Not for back packing because they are rather rigid and are heavier than some other types of dry bags. I keep dryer sheets in the bottom of them to help reduce that plastic or neoprene smell.

I love the extra large because it fits our 4 person big agnes hiking tent, 1 down sleeping bag, and 2 big agnes sleeping pads. The large is great for one person. My husband and I own an extra large, large, and medium as well as smaller hiking dry bags but usually the majority of our stuff for a weekend canoe trip fits in our 3 we own minus cooking equipment and food which usually goes into a cooler or some other contraption. Just bought a large for a friend for her birthday!

Verified Buyer

Reviewed by Lori from Minnesota on Tuesday, September 29, 2015

Well built, definitely keeps things dry, top grade water proof construction and materials.

Verified Buyer

Reviewed by Sally from Eugene on Friday, April 24, 2015

This bag is bit and seems like it can fit a sleeping bag and all your clothing and supplies. I have not used it yet but seems solid.

Reviewed by MIndy G from Atlanta, GA on Thursday, January 15, 2015

Great bag but much larger than the stated size in the item description. More like 17" wide. Returning as this is too large for my needs (the nose of my kayak). I got a medium also and that is more like the large size described in item specs. Keeping the medium but the large is going back.

Verified Buyer

Reviewed by ADK Hiker from Albany, NY on Friday, November 14, 2014

I got this bag to haul around some snowshoes and trekking poles this season. Although I would have liked a bag that breathes, this bag is rugged enough to handle the sharp points of the poles and snowshoes. It fit the 25" snowshoes perfectly and has a decent handle when you roll up the top. I may have to let the items dry out first before storing them for a long period of time, but the price was perfect for the purpose I was intending to use it for.

Reviewed by Thomas Kovacs from Slovakia on Friday, October 24, 2014

I haven't used it yet but I lent it to my friend. She used it during a canoe trip and she was very satisfied.

Pros:
- Super price
- It is very light and made of thin material


Cons:
- Hasn't got straps

Verified Buyer

Reviewed by Dean S. from Scottsdale, AZ on Thursday, October 9, 2014

Purchased the "Large" bag, along with another Seattle Sports dry-bag I already had (see photo), which was more of a side loading duffel. Adding this smaller one to hold sleeping bag, pad, tent - things I want to arrive dry. Use larger one for clothes, gear, etc. Took a tour from AZ through Colorado, including thunderstorms. Placing bag behind rider position kept wind resistance to a minimum. These appear well made, heavy duty, light, and are easy to load, seal, & attach. Also plan use for canoe trips. Good value, especially with Sales incentives from Sierra Trading Post.

Verified Buyer

Reviewed by Scamper from Wisconsin on Friday, September 19, 2014

I have not put this bag to the test yet, but it keeps air in so I assume it will keep water out. It seems very sturdy and well made. Should last a long time if treated correctly. Be advised that the material that this bag is made of is fairly heavy, which makes the bag a bit heavier and quite a bit stiffer than some of those lightweight bags you may have seen. Still, I'd trust this one farther than any of those to take a licking and keep on ticking!