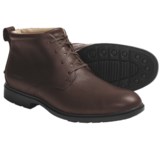 Closeouts. With a no-frills design and smooth leather upper, you just can't go wrong with Sebago's Marquette boots; dress them up or down for an all-around handsome look.
Average Rating based on
33
reviews
4.030303
0
5
Reviewed by bna929 from Northeast US on Sunday, March 9, 2014

Nice pair of boots. Have used them to get to work through snowy/icy winter days, good grip, decent comfort and my feet have stayed dry in warm. Good for casual wear with jeans as well as in the office with slacks.

As recommended, order a half size down. I'm an 11 and 10.5 is a good fit. As others have said, probably not a good fit for someone with a wide width -- I'm more a medium, and it's a snug fit on the width. Still comfortable, but a true wide foot wouldn't work here.

Reviewed by Kayse1387 from Pittsburgh, Pa on Wednesday, February 26, 2014

I was looking for a dressy boot that had a good tread that I could wear to work in the snow, but also wear with jeans to a nice dinner. These shoes are perfect for that. They took a few wears to get worn in, but now look and fit great. I highly recommend these shoes.

Reviewed by Beach Bum from La Jolla, CA on Tuesday, February 11, 2014

Beautiful, basic boots... Dressy enough to wear with jeans for date night or business casual. They are also waterproof and well made, so you could wear them if you work outdoors in a mild climate. However, they do run big... at least a half size. I typically wear a 10.5 dress shoe/boot and 11 in most running shoes, but the 10.5 I ordered was way too big, even with heavy socks. I would have exchanged for a 1o because I loved them, but not available. Definitely worth twice the $50 I paid (on sale) , sad to send them back.

Reviewed by Len the guy from Plymouth, MI on Saturday, December 21, 2013

First off...they do run 1/2 size too big. I wear an eleven and the 10-1/2 fit like a normal eleven shoe. Secondly, these are narrow. If you have a wide foot, these will be a problem. The shoe themselves are great. Nice quality and look great with jeans. They area a little boring, style wise but are very comfortable. Great shoe for the price. If the styling was a bit better I would give them the 5 stars.

Reviewed by Chris Rockett from Atlanta, GA on Sunday, December 8, 2013

Confession: I haven't even worn them yet because I've had to reorder them twice - they are just so amazingly long that I have gone from size12 to 11.5 and now I need to try 11 before I give up! I haven't worn a size 11 in any shoe since before high school!

Agree with the other review that they are quite narrow, too.

If they will fit me, I'm sure they'll be really comfortable after break-in and they look super-sturdy and waterproof. Vibram sole is great and seems quite slip-resistant.

Reviewed by MrSato from Bentonville, AR on Thursday, October 24, 2013

Great boot for casual or work wear. Nice with jeans. Not a dressy boot. Solid Vibram sole, but no Goodyear construction. Order 1/2 size down. Slightly narrow fit, but not terrible.

Reviewed by Sean from Philadelphia on Friday, September 6, 2013

This is my second pair. I wore the first pair every day for well over a year and not one seam was busted. Just be sure to get a half size lower than usual, as they run on the large side.

Reviewed by iShavgula from Tbilisi, Georgia on Tuesday, September 3, 2013

Well made, good leather, comfortable and very elegant.

Reviewed by Mark from Palo Alto, CA on Friday, April 19, 2013

These are very nice boots, but are sized so narrow they do not fit normal human feet. As for sizing down, I wear a size 9 in almost every shoe, and I ordered 8-1/2 based on Sierra Trading Post's advice to order a half size down. I could hardly get the 8-1/2 on my foot they were so tight. So the sizing information that STP gives is very incomplete. Here is what is really going on: The shoes are ridiculously narrow for their length, or put another way, ridiculously long for their width. So you have to have extremely narrow feet to wear them, and then have to order a size down so they're not way too long. Really ridiculously shaped shoes. Make a normal width and I'll gladly buy them.

Reviewed by harold from Washington State on Wednesday, April 17, 2013

I read another review that said they run a half size big... believe it! I could have done well with a size eight but i'll get by with the 8 1/2 just because sending them back is a pain. Anyway, they are for dress... I'll be uncomfortable anyway so the size won't matter as much as would otherwise. Nice leather but not the kind to try to spit polish; they have a nice luster after polishing and buffing, but they don't shine. That's O.K. by me, just sayin'.
They are a little taller than most dress shoes, tho not a boot. This helps me as I've gained a pound or two and my bigger butt has made my pants a little short... these shoes compensate nicely.