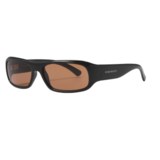 Closeouts. Make a fashion statement with the refined style of Serengeti's Genova sunglasses. Photochromic and spectral-control glass lens technologies automatically adjust the tint and ensure excellent optical precision.
Average Rating based on
7
reviews
4.571428
0
5
Verified Buyer

Reviewed by Sharon from Texas from Hempstead, TX on Wednesday, December 17, 2014

Love these sunglasses. Great optics, excellent coverage, wonderful fit for medium sized female face. Earned the 5 star rating because of the accompanying hard case too.

Verified Buyer

Reviewed by skimomof3 from NYC on Monday, September 22, 2014

I love these sunglasses. This purchase was actually to replace the pair I recently broke (do not kneel on them by mistake!). The photochromic lens is what makes this pair outstanding. While the shade change is not dramatic, I can wear these in both low and high light. They are the only pair of sunglasses I have ever had which I could wear all day long. It drives me nuts when I have sunglasses which are a touch too dark and I have to take them off when the sun goes behind a cloud. No such problem with these! I have the black frame driver glasses. Tried to make do with my other sunglasses after I broke my original pair, but ultimately I came back to STP to buy these again.

Reviewed by Seattleclick from PNW on Thursday, July 24, 2014

You can't really go wrong with Serengeti sunglasses when it comes to quality. A few considerations to keep in mind... 1.) the tortoise sunglasses are very dark in color to the point you can't really notice it much. 2.) these sunglasses are not very photochromic and don't change much indoors with mine anyway. 3.) the shape does not fit my long, narrow face that well but they look good with a cap on and overall, they are good, functional shades.

Unfortunately, I had a tiny scratch on one lens but I will not bother exchanging them; so that was just disappointing. Lastly, the Serengeti gold font on the side will most likely fade or disappear with time. On one side, the 'g' is already missing a tiny section of the font.

Conclusion: I got this pair first due to the lower price. I thought if I liked them enough, I would just get the polarized Genova sunglasses too. I will pass on those due to this experience.

Verified Buyer

Reviewed by Mikey from Maryland on Monday, June 2, 2014

My wife's first Serengettis and she loves them.. Great fit and wonderful vision.

Verified Buyer

Reviewed by Disappointed from Oregon on Monday, June 2, 2014

Serengeti are awesome sunglasses. I ordered this pair as a gift for someone. It was supposed to have been the polarized lens......I was shipped the driver lens.....very disappointing. will not work as well with water. That is very unfortunate. This is not the sunglasses fault. This is an issue with the shipping and ordering department of Sierra Trading Post.



Reviewed by Okie Fowler from Oklahoma on Tuesday, March 18, 2014

I originally bought these sunglasses for my wife, however she didn't like the wide/thick frame. Too masculine she said. So, I tried them on and really liked them. The frame fits my face perfectly (I usually wear 5.5" frame), and is surprisingly comfortable (has no cushioning features). The lenses work as advertised and are relaxing to the eyes during long trips.

I like these sunglasses so much that I bought a pair of Genova's that are polarized/photochromic that I will use while fishing.

Reviewed by HA from Virginia on Sunday, January 12, 2014

Serengentis can't be beat for their beautiful optics, & the Genova adds some serious flair to boot. They are lightweight, but no way flimsy, & the super-smooth frame fits comfortably on your face. Very flattering & an incredibly great closeout deal.