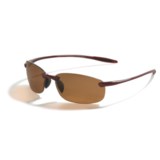 Average Rating based on
17
reviews
4.352941
0
5
Verified Buyer

Reviewed by john from NH on Sunday, May 3, 2015

best sunglasses I have ever bought. Lenses are absolutely amazing

Verified Buyer

Reviewed by mountain man from WY on Saturday, December 6, 2014

great lenses Ii have come to expect from Serengeti. Frame on the larger side, though, and when pushed back on my nose, my lashes hit the lense, and make a smudge after several hours.

Verified Buyer

Reviewed by MrBill from South Carolina on Saturday, November 15, 2014

These are great sunglasses. Though they don't look it because of their relatively small size these glasses as very sturdy and I expect them to last a long time. Serengeti produces consistently high quality sunglasses and these are no exceptions. Also a great price from STP.

Reviewed by MrBill from South Carolina on Saturday, November 8, 2014

Though these are slighly on the small side they are extremely comfortable and I really like the clarity of the lenses. The gold mirror lenses look great as well. I'm a bit of a sunglasses junkie and I appreciate the consistent high quality of Serengeti products. Also at a great price from STP.

Reviewed by Jon the Plumber. from Tennessee on Thursday, November 14, 2013

These sunglasses reduce glare without darkening too much. Extremely light and comfortable. They are also very well made. I highly recommend them.

Reviewed by rosh from Iowa on Saturday, November 9, 2013

I;m a pilot, and I also drive a lot. I have had Ray Bans and Maui Jims and Bolle, all good glasses. But the Serengeti lenses on the Nuvola are my all time favorrite for several reasons. I prefer the Nuvola because of the incredible lightweight feature and quality. I can wear these for hours under various lighting conditions with no fatigue and without any discomfort. I have the dirverr len and now purchased this rose lens advertised here. Both lightne and darken with changing conditions and both are full UVA UVB rated, and poloarized. What more could you want for this great price on STP? the song about "cheap sunglasses" is fun, but my eyes are far to important to me to wear junk lenses. Do your self and eyeballs a favor - give em some protection and a real rest - and get some Nuvola's.

Reviewed by Mary from RI on Thursday, November 7, 2013

I love Serengeti and have a few pairs but these ones are incredibly light and kind of small to medium framed. I don't like the nose bridge - it protrudes and looks a bit odd. They seem rather fragile although they are fairly hard wearing poly of some sort. Am returning

Reviewed by Norther from Chicago area on Monday, November 4, 2013

It just happens that I drive directly east in the morning and west in the evening. I've lost entire intersections in the sun on three different occasions (and this is with prescription photochromic lenses) overshot my turns at rush hour in the Chicago area...I'd finally had it. Saw these and was intrigued by the reviews but worried about "flimsy" comments. There are not flimsy/poorly made, but are lightweight and flexible. I suppose that if you are a die-hard glass-lens fan, you may miss the weight. This will be an issue. If not - these are amazing. I've forgotten to put my visors down against sunup/down glare because these lenses are simply that good. They wrap just enough to protect your peripheral view and look great, too. My beau liked mine so much, he ordered his own. Thanks, STP - I am a dedicated fan!

Reviewed by Planet Ocean from Boston, MA on Tuesday, October 22, 2013

Sleek, good-looking, light sunglasses. I expected them to better cover the eye area - they are below the eyebrows... Also expected a better adjustment to light - so far, I barely notice the difference between the photochromic and non-photochromic. Overall, they fit nicely and seem to be well made.

Reviewed by rosh from Iowa on Tuesday, October 22, 2013

I own two pair of these Serengeti Nuvola, both with slightly different lenses. I als own Maui Jims, and Velocity and Granada by Serengeti. As a pilot and a person who must do a lot of driving, I constantly choose the Nuvola. The reasons are of course the quality of the lenses, but also the comfort of the frames. They are extremely light and I can wear them for hours without noticing them. I can't say that for my other glasses. They have a modified wrap design, so I get good peripheral coverage, and since they lighten or darken witht the conditions, I don't need to constantly change glasses or take them off. Because they are a poly lense, there is no concern with breakage or craking like glass lenses. The only downside is that you must treat them carefully when not on youur face, to avoid scrattches. STP has a great price ont hese Nuvola's, and with a coupon code, they were less than 1/2 the selliing price on eBay. If youu need good all around glasses, try the Nuvola.