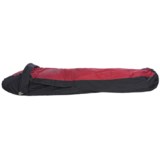 Closeouts. An exceptional camping tool for ultralight enthusiasts, Sierra Designs' Zagori bivvy has welded seams, DriZone® waterproof breathable fabric and two hood vents.
Average Rating based on
5
reviews
2.200000
0
5
Reviewed by Loveland Rockhound from Colorado on Wednesday, August 28, 2013

I went to pack for my next trip and my seams fell apart, hello delamination issue. Looks like I get to spend some time with seam tape and seam seal. Whee! Be glad they are gone if you wanted one...

Reviewed by Loveland Rockhound from Colorado on Monday, August 26, 2013

I have used this bivy once and have set it up a few times playing with stake and guy arrangements. It survived the experiences. The trip was to 10,000' here in CO and conditions were a decent test. I woke up with condensation, but this also happened in my MH single wall ultralight tent. It was setup on rocky ground and the bathtub didn't take any punctures. There was some wind (20 mph w/ 35-45mph gusts) and the upper structure held up well. I did not see the delamination issue others posted about, but knocked off a star for it since that is pretty serious and maybe I've just been lucky so far. However, my MH singlewall also delaminated in about 1-2 years and I think that [...] glue is a risk inherent to the ultralight design philosophy.

Reviewed by Climber Corb from Seattle on Thursday, July 18, 2013

This bivy bag lasted exactly one night in clear weather before it self-destructed. The main compartment's top (the red part in the picture) came completely apart on the second night (also in clear weather). The glue that Sierra Designs used to adhere the seams is garbage, and it simply de-laminated (tore apart). This rendered the entire bivy as little more than an elaborate mosquito net for my head. Thank goodness it did not rain. Avoid. Avoid. Avoid.

Reviewed by Old rider of the purple sage. from Pacific north wet. on Wednesday, June 19, 2013

This Sierra Designs bivvy was simply so poorly constructed that the sealant used between the critical outer layer of the main ingress/egress flap failed upon first use. The two layers separated like tissue paper. The same failure occurred on the triangular vent. Dew was allowed in immediately, My sleeping bag got wet, and I'm glad it didn't actually rain that night. I'd expected more from Sierra Designs as I've have had far better experiences with other of their products in the past. Steer clear.

Reviewed by Kendo Ken from Boston, MA on Tuesday, April 23, 2013

I've spent a lot of nights in a bivy sack. I haven't slept in this one yet, so this rating is solely on construction and ease of use. This bag is very well made. I like the welded seems. My wish list to make this just a bit better - a zippered opening at the feet and add another 6-8" of length overall. I like to store most of my gear at night inside the bag, usually down past my feet. There is reasonable room to do this in this bag, but I will always take more length if it is available. Condensation is a way of life in a bivy - in the beginning. If you thin down what you wear at night you will sweat less and therefore have less moisture trapped in the bivy. On many nights I start off with the bivy almost completely open - very easy to do with this particular bag (5 stars for that). Then if I get colder during the night I pull the top over, if that is not enough I zip myself in. For winter trips I highly recommend wearing a vapor barrier shirt to sleep at night. Research vapor barriers and you may find them to be the magic button you've been dreaming of. They were for me. Also, first thing in the morning (assuming it is relatively dry out) pull out your bag and turn the bivy inside out. Condensation will evaporate very quickly while you are cooking breakfast, running laps, doing the whirling dervish, or whatever it is you're up to out there....