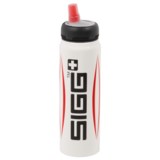 Closeouts. Get easy sipping and leakproof protection with Sigg's Active Top water bottle. It has an integrated straw for easy sipping and a pressure relief valve that makes it perfect for carbonated beverages.
Average Rating based on
24
reviews
4.208333
0
5
Verified Buyer

Reviewed by Eric from Boston on Monday, August 25, 2014

The quality of the bottle is as usual good. This is my first time to use the new designed bottle. For me it is a little bit wired to drink by biting and suck : D. Finally, i found the bottle is not 0.75L but 1L, a little bigger than expectation.

Verified Buyer

Reviewed by shmamy from Colorado on Friday, August 22, 2014

I had one of these that I paid $25 (!!) for (not at STP), and it went missing. Found the same one here for much, much less. It's fantastic, but it would be even better if it were a tad narrower. I use it for spinning class, and every time I take the bottle out of the holster and put it back (quite frequently during that class), it's a bit of a struggle getting it in and out. And it's also too wide for the cup holder in my car. It has the camelbak style water delivery system, and you can adjust the top (open/closed) so it doesn't slosh water all over your gym bag. (Although I haven't really put it to the test on that.)

Verified Buyer

Reviewed by azgal from azgal on Tuesday, August 12, 2014

great water bottle but as everyone has said, difficult to suck water through the straw. other than that I love it.

Verified Buyer

Reviewed by Beewilder from Wisconsin on Wednesday, July 16, 2014

I purchased it for the carbonated beverage purpose as I travel alot and like soda! The cover is the main item and it is perfect!

Verified Buyer

Reviewed by Pgh mom of 2 from Pennsylvania on Monday, June 30, 2014

No leaks, which is my biggest concern. It takes a bit of sucking to get the water out of the straw before you can drink easily. Disassembles into about 5 pieces for washing, which is a bit time consuming. Does not appear to have any pieces that would break easily, so I suspect it will last for quite some time.

Verified Buyer

Reviewed by Mountain Mike from Utah on Thursday, June 19, 2014

My wife loves the idea of this bottle, but I think I'll have to return. Pros: Metal, large bottle, open-close feature. Con: you've got to put in some serious sucking effort to get water from the bite valve. It's a lot of work for a little treat. Does not flow well like a Camelbak. Maybe I got a dud, who knows.

Verified Buyer

Reviewed by skiergirl from northcoast on Tuesday, June 10, 2014

not as easy to "suck" the water compared to camelbak but still a decent product for the price

Verified Buyer

Reviewed by Germanophile from Waterville on Thursday, June 5, 2014

But high quality make. I prefer the other Sigg bottles with the old fashioned screw top.


...Also the the art on in it is banal, with some insipid slogan like "Water for Life" or some other such non-sense on it.

Reviewed by montpeliermama from Vermont on Thursday, May 15, 2014

Awesome Sigg bottle-- but not a fan of the active top.

Verified Buyer

Reviewed by Suni from Indiana on Wednesday, May 14, 2014

I thought that I can use this for hot water, but it is not for hot water, so I returned it.