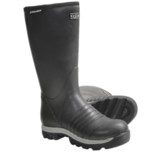 Closeouts. When your work schedule or a weekend outing takes you into the mud and muck, keep your feet dry with Skellerup Quatro rubber boots, featuring durable waterproof construction and an antibacterial, moisture-wicking lining.
Average Rating based on
71
reviews
4.690140
0
5
Reviewed by mom67 from Wisconsin on Wednesday, March 16, 2016

My husband would wear thru rubber boots working on our farm every six month like clockwork. We had come to accept this fact. We always assumed it was from the acidic nature of the feed we are working with day in and day out. We'd tried LaCrosse burlies, Northerners, Irish Setter, all sorts of other brands. Each one ended up in the garbage after one summer or winter. Then I found these Skellerup Quatro Rubber Boots for a mere $54 at STP. He gave them a try. That was in August 2014 and he is still wearing them! It is unbelievable!! I am on the site trying to buy another pair. Surely they can't last forever and we will never buy another boot again. True to size, and very comfortable as he is on his feet all day on our farm. I only wish the tops we adjustable and we would have discovered them sooner. They fill with sawdust when we are cutting wood. :)

Reviewed by Jordan the dairy farmer from Massachusetts on Sunday, December 6, 2015

I bought a pair of these boots and they served me very well for a few months before they became unusable due to an accident, which I won't go into. I fully expect that they would've continued to keep me warm and dry for a long time after had they not had their lives cut short. After the incident, however, I contacted Skellerup's customer service department via email and received a speedy response from a very sympathetic employee who not only express shipped me another pair, but also a free boot remover and Quatro branded baseball cap at no expense to me. A week later and I was back to wearing skellerup on my feet and my head this time. Could not be more pleased.

Verified Buyer

Reviewed by Che from MT on Sunday, June 28, 2015

Very comfortable. For me, fit as advertised

Verified Buyer

Reviewed by Bob P from Ohio on Friday, May 29, 2015

I haven't worn them outside yet, just in the house and they feel really comfortable. I got them at a really good price as a closeout, but I wonder if they weren't seconds. Both boots had a hole punched in them about an inch from the top. If the water gets that high I am in trouble anyway. To me closeout doesn't mean second and should have been label as such. I just never bought a pair of boots with a hole punched in them.


Verified Buyer

Reviewed by Ole Texas Red from Texas on Monday, March 23, 2015

Awesome. Not light weight, but that is just an FYI. I would buy again. Keeps feet warm

Verified Buyer

Reviewed by Mittenfarm from Michigan on Sunday, March 22, 2015

Good fit and very sturdy boot. Excellent quality

Verified Buyer

Reviewed by tctrail from Kentucky on Thursday, March 19, 2015

I first ordered these for my son and he loves them. Says they're very comfortable, warm and dry. Then his father in law thought he might need a pair.. ordered his for him and he says the same. Then I decided a might need a pair. I normally wear a ladies 8.5 shoes and about a 9 in insulated boots, since these run about a size large I ordered the mens sz 6. Fit is good. Roomy for socks but can still wear them comfortably without socks. All in All a great warm dry boot.

Verified Buyer

Reviewed by Tom S from New Hampshire on Friday, March 13, 2015

Nice quality, sturdy design with fine material. Good traction. Would definitely buy again.


Verified Buyer

Reviewed by Oregon farmer from Oregon on Thursday, March 5, 2015

Great boots for everyday dairy farm use, I wear 9/9.5 and got a 9,

Verified Buyer

Reviewed by Mark from NH on Wednesday, March 4, 2015

Initially ordered one size smaller per another review - DON"T Do IT! Boots are true to size and after returning the pair I purchase my size and it fits great. These boots are much more comfortable then I expected.

Verified Buyer

Reviewed by Snowman from Wisconsin on Tuesday, March 3, 2015

These boots are nice and built tough, they do run large -but I would put the size up at 1 1/2. Size 9 fits a 10 foot , usable but slightly snug. Otherwise good purchase and price for an over calf muck boot.

Verified Buyer

Reviewed by Viet from New Hampshire on Tuesday, March 3, 2015

Absolutely water proof and warm! I used them for ice fishing and clearing snow all day and have been comfortable the whole time. Highly recommended. Tab behind makes these come off easy also.

Verified Buyer

Reviewed by haffmoonore from oregon on Monday, March 2, 2015

High quality and comfort, totally happy with this purchase.

Verified Buyer

Reviewed by Skier from CT on Monday, March 2, 2015

Very strong, a little large but perfect for thick socks, get 0.5 larger than what you need. Excellent on ice, grips well, easy on and off with a large dimple at the back of the boot. Made for NewZealand farmers but works well in the North East with all our snow.

Verified Buyer

Reviewed by BCoker from Utah on Monday, March 2, 2015

One size smaller is the correct size. Good fit and feel.

Verified Buyer

Reviewed by Earlygirl from Massachusetts on Thursday, February 26, 2015

These boots are warm and snug, keep the chill off feet, and have great traction in snow and ice. Their only downside is that they are horrendously difficult to take off! It takes two of us to get them off! One day perhaps they will be available with a zipper?

Verified Buyer

Reviewed by Eastport Morse from Maine on Wednesday, February 25, 2015

Follow the suggestion to order 1 size down. iGood advise. They will get a work out here in coastal Maine; both salt water and snow. With over 120" of snow up to the end of Feb., the rugged treads on the bottom work great. I did add a thin inner sole for more comfort.

Verified Buyer

Reviewed by Jerry from VT on Tuesday, February 24, 2015

I was surprised how nicely these fit my hard to please feet. They must be wider than most foreign made boots to suit me. The material is heavy, so feel a bit clunky, but expect they will make up for it with durability. Very pleased with the value in this purchase.

Verified Buyer

Reviewed by Thiyaga from Arkansas on Monday, February 23, 2015

Runs one size over, as advertised at the site. But fits very well. Quite comfortable even after 6 hours of wearing. A bit difficult to remove, but you will learn the trick after after few tries.

Verified Buyer

Reviewed by BIG BOB IN MAINE from SOUTHERN MAINE on Sunday, February 15, 2015

I have just said it all! Super company!

Reviewed by John from New York on Sunday, February 15, 2015

I was looking for Muck boots and I saw these. I cannot be happier with my purchase. These boots are comfortable, warm, tough and light enough that they don't wear you down after working snow duty which includes a lot of walking. After use hose right off and they are good as new.
This is my second season with these boots and they have shown no wear.

Verified Buyer

Reviewed by Terry from UP Michigan on Tuesday, February 10, 2015

Outstanding muck boot, easy on easy off, sizing down 1 whole size good advice. Very warm even in sub zero weather with only a pair of UA socks.

Verified Buyer

Reviewed by JRoss from Connecticut on Tuesday, February 3, 2015

This is an excellent, warm, supportive mucking around in boot. Very comfortable. Does run large so glad I ordered a size smaller. My only complaint is that how hard it is to take the books off.

Verified Buyer

Reviewed by Geoff from NY & Vermont on Tuesday, February 3, 2015

These are excellent waterproof boots. I spend 3 hours shoveling snow in them and my feet stayed warm and dry. Note that their sizing seems accurate to me. I bought them one size smaller (8) rather than the size 9 I normally where and had to return the size 8 because it was too small even when I was wearing ordinary dress socks. Since I often wear thicker wool winter socks with my boots, the size 9s were a must and I swapped them. The boots were so comfortable after that that I could wear normal or thick socks and even run in them.

Reviewed by DL from MD on Friday, January 30, 2015

Very good boot. A little hard to remove, (I have large caffs). I have worn several time now and find them very comfortable, even on long walks. Just don't ware them inside for too long, they can get warm.

Reviewed by Happy Hound Hiker from SLC, UT on Thursday, January 29, 2015

I really love the build and foot fit of this boot. It feels very supportive and cradles the foot, which seems unique for this kind of boot, and I can feel they are going to be plenty warm. It is a very muddy winter here in the Rockies and I am tired of constantly scraping off my winter weight leather boots that I use around the barn.
My only issue is that I am a petite woman. I know this is a men's boot, so even ordering a size 6, they run large around my calf, and a bit too tall, so I anticipate stuff falling into the boot, but other than this, it seems like it will work for the purpose intended,

Verified Buyer

Reviewed by Seal Cove walker from Maine on Thursday, January 29, 2015

I bought a pair of these boots for myself as well as my two sons. Though sized small (1 size off), the fit is amazingly comfortable for such a sturdy rubber boot. I used them to walk for a mile, including through drifts, during our recent blizzard in Maine. Their was no discomfort and they kept my feet warm even though their insulative layer is not that thick. Because they are so sturdy, I expect them to last a long time, but at the price STP is offering, I'm looking to buy another pair.

Verified Buyer

Reviewed by loon654 from Michigan on Monday, January 26, 2015

My son loves these. Keeps him warm and dry out sledding or hiking in the woods. Ordered a size up and they fit perfect even with heavy socks. Only down fall is they are a little heavy. Not made to walk long distance for a skinny 12 year old with big feet.

Verified Buyer

Reviewed by BIG BOB IN MAINE from Southern Maine on Sunday, January 25, 2015

I like the quality of these boots, I think they will last a while. Very nice fit & comfortable to wear. I use them at the beach in the winter to metal detect, no metal parts so they don't affect the detector. I am going yo buy another pair!

Verified Buyer

Reviewed by Ranchhand SD from sd on Thursday, January 22, 2015

Had to return, as my foot couldn't get past the ankle area.