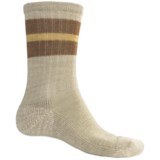 2nds. With impact-absorbing cushion, supportive arches and moisture-wicking, temperature-regulating merino wool, SmartWool's Barn socks are great for long work days, whether they're spent at the farm or in the office.
Average Rating based on
17
reviews
4.882352
0
5
Verified Buyer

Reviewed by UP mama from U.P. of Michigan on Tuesday, January 6, 2015

Great wool socks at a great price.

Verified Buyer

Reviewed by Bryan from South Mississippi on Tuesday, December 2, 2014

I'm not sure why I'm being asked to review a discontinued item, but here goes. The SmartWool Barn Socks are by far my favorite socks that SmartWool makes.. made rather. The fact of the matter is that I searched around the internet specifically looking for these socks because I loved them so much. They are extra cushy and serve me well as house socks. The extra cushy-ness does make some of my shoes fit a little tight but I generally tend to wear only them around the house so it's not that big of a deal. The socks are also nice and warm which, being from south Mississippi, is not usually a necessary attribute it does come in handy for the few days of winter we get each month between November and March.

The only negative that I have about buying these sock has to do with Sierra Trading Post. When I received the socks in the mail I couldn't help but notice that they were all stamped "Irregular". I'm not sure how much this may have influenced my decision to buy the socks, had I known in advance, considering the dwindling supply of these now discontinued socks, but it might have been nice for Sierra Trading Post to note that on the description or in the title for the socks. The only good news is that upon washing the socks I noticed that the "Irregular" stamp had washed away so that at least I can now fool myself into believing that they are just as normal as the two pair I already owned.

Verified Buyer

Reviewed by nomooninsky from Beijing on Wednesday, November 5, 2014

It looks very good

Verified Buyer

Reviewed by ShopperGal from Vermont on Thursday, September 25, 2014

Smartwool is the only way to go for warm socks and long underwear, IT DOES NOT ITCH!! Great buy.

Verified Buyer

Reviewed by Ranching Rosie from Texas on Monday, September 22, 2014

I really like these socks, even in summer. I spend a great deal of time working outside wearing boots - either heavy rubber or leather. These socks keep my feet padded and comfortable.

Verified Buyer

Reviewed by greydog from Spokane on Wednesday, July 9, 2014

This style has the beefy yarn style rather than the signature tightly woven wear forever weave like the Ph.D and others. They are excellent for a crew style sock, just not as long wearing

Verified Buyer

Reviewed by Ironman Bill from Pennsylvania on Sunday, June 15, 2014

These were described as "2nds" in the write-up. That turned out to be small cosmetic blems such as very slight diffreneces in the red bar arounf the top. The socks themselves are nice and warm, well made, and itch-free due to the Merino wool. Great value for really good Smartwool brand socks.

Verified Buyer

Reviewed by Dot from California on Wednesday, May 21, 2014

I asked my husband how he liked his new socks, and he said "They're great!" We both love our SmartWool socks. They're comfortable and long-wearing. These Barn Socks are nicely cushioned on the bottom of the foot.

Verified Buyer

Reviewed by The Lowdown Kid from Olympic Peninsula on Tuesday, May 20, 2014

Great socks! Feel good, wear great, comfortable. Everything you want a sock to be.
I never like to be conscripted as an uncompensated advertiser, so the absence of visible, flashy logos is important to me, and becoming harder to find in any product category.

Verified Buyer

Reviewed by Outdoors 101 from Pennsylvania on Tuesday, April 29, 2014

I generally prefer Smartwool socks for performance and comfort.
It is nice to find them at Sierra for affordable prices.
Irregular stamped but no quality issues found.