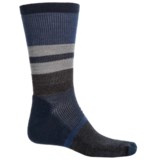 2nds. With SmartWool's Distressed Stripe socks accompanying your everyday footwear, you'll be dressed for success sans any stress. Their moisture-regulating merino wool blend wicks away any excess moisture, and ventilation panels facilitate air to stall overheating.
Average Rating based on
32
reviews
4.281250
0
5
Verified Buyer

Reviewed by seattlegirl from seattle on Saturday, November 12, 2016

too small for men's shoe size 9 feet. however kept them for women's shoe size 6.5 feet--perfect fit.

Verified Buyer

Reviewed by Yang from DE on Friday, February 19, 2016

light weight, daily wear socks

Verified Buyer

Reviewed by Ben from North Carolina on Thursday, February 11, 2016

These fit great and are a bit thicker in the sole than some SmartWool casual socks, which I like. Even though they are listed as 2nds, the ones I received had no apparent blemishes and were not stamped Irregular -- though no guarantees, I suppose! Great socks especially for $4.50 with a coupon.

Reviewed by Mikey from Annapols on Thursday, February 4, 2016

these are ok to me spring and fall sock just ok.

Reviewed by John Smither from Wyoming on Monday, January 11, 2016

I typically love smartwool socks, they have excellent fit, comfort, warmth, and performance. These socks do not fit that bill. I found that these socks continued to slink down my legs as if they had no elastic at the top to hold them in place. They look good, but the feel is mediocre.

Verified Buyer

Reviewed by Meekoman from Pennsylvania on Friday, December 18, 2015

If you don't have familiarity with Smart Wool, it is light in weight, thin-ish, easy to care for, and to my experience look better for longer than cotton socks. And they are every bit as comfortable. More expensive, but worth it.

Verified Buyer

Reviewed by Practical and Comfortable from Missouri on Friday, November 20, 2015

I am female size 8 and took a chance on these socks. Love them, they fit just right and I have moved them to the front of my sock drawer.

Verified Buyer

Reviewed by NEMPLS from MInnesota on Friday, October 30, 2015

Comfortable. Not too warm.

Verified Buyer

Reviewed by tango from Northern Mich. on Friday, October 16, 2015

It's a lot to pay for a sock, but they are so luxurious and stretchy they're worth it.
Previous pairs have lasted for years.

Verified Buyer

Reviewed by Nickname from New Mexico on Tuesday, October 6, 2015

Quality socks, I would buy again

Verified Buyer

Reviewed by Bc-sea from LA, CA on Monday, October 5, 2015

Got these to go under my gray suits. Usually love SWool. Not so much these.

The fit is not great. 1) the heel tracks off where it should be and makes them feel weird. Not just a little bit but alot. 2) the "distressed" fabric just makes them look ratty, pill-y and old. They may be fine for other uses but don't buy them as a something to dress-up/accessorize a suit.

Reviewed by nerainmaker from Omaha, NE on Friday, February 13, 2015

This is a good weight sock for casual office shoes. However, the color I received is not as depicted in the picture. The picture appears to have a blue accent color, but the socks I received have a dark teal accent color. It is considerably different from what is pictured, and I will probably be returning them.

Verified Buyer

Reviewed by Barnaclebob from New York, NY on Thursday, November 27, 2014

Merino wool...awwww...so comfy and warm but not to the point where you are sweating, just perfect. Get them!

Verified Buyer

Reviewed by Me from Maine on Tuesday, October 14, 2014

Super, super thin socks... don't think they will last long.

Verified Buyer

Reviewed by BC from NY on Saturday, September 6, 2014

Great socks at a great price

Verified Buyer

Reviewed by smc5 from Richmond on Wednesday, August 6, 2014

These socks are lightweight and would be great for all year round use. But the opening does not stretch enough which makes it difficult to get the sock on. Not one of my favorite SmartWool products.

Verified Buyer

Reviewed by Henry from Illinois on Tuesday, July 8, 2014

Originally skeptical about wool socks, I found these Merino wool, crew socks extremely comfortable and supportive.

Verified Buyer

Reviewed by Outdoor Worker from Wisconsin on Tuesday, May 20, 2014

It's a nice size wool sock - my feet stay warm without the bulk which is perfect for summer & the use I need for my rubber boots with working outdoors. Will be ordering more for the remainder of the summer and thicker ones possibly for the fall; great price - I can actually afford to get a few pairs here!! :)

Reviewed by Bullers from Canada on Sunday, May 11, 2014

liked the sock / pattern - ordered XL which is supposed to cover 12-14 1/2. Not even close and I'm towards the 12 end of the scale. Tight & uncomfortable all around. I've a wide foot but found that the Icebreaker & Goodhew brand sizes have been better fits for me

Verified Buyer

Reviewed by Lemmy from Texas on Wednesday, April 23, 2014

Nice looking, nice fit . . .

Reviewed by Chuck from Indiana, Pa. on Monday, March 31, 2014

Typical SmartWool product. Good Quality and Good Fit

Reviewed by rvrguyd from PA on Monday, March 24, 2014

Ordered a medium but these look a little small. Hope they don't shrink.

Reviewed by droF from Novi, Michigan on Monday, August 5, 2013

I won't pay the exhorbitant prices these socks get at the local stores but at Sierra prices they're a good bargain!
I like the material & design of these socks.
Can't see any reason these are listed as seconds.

Reviewed by droF from Novi, Michigan on Thursday, August 1, 2013

Great socks at Sierra prices. Don't see any reason they're classified as seconds!

Reviewed by Eric from colorado on Monday, May 20, 2013

Excellent socks. My only minor complaint would be they open up at the top, like a compression sock. Depending on the shape of your calf, this could be good or bad.

Reviewed by CBM from red wing mn on Thursday, March 7, 2013

comfy, hold shape & size after washing

Verified Buyer

Reviewed by Me from Northeast on Thursday, January 31, 2013

Smart wool is exceptional for all uses.

Verified Buyer

Reviewed by jad from Tennessee on Monday, January 28, 2013

nice merino wool sock

Verified Buyer

Reviewed by runner, soccer, yoga, dance mom from no. cal. foothills on Monday, January 28, 2013

cmaon..they're smartwool. that's just another word for quality in my book. We have been buying smartwools socks for the whole family for years. They are always great, and withstand a LOT of mileage!

Verified Buyer

Reviewed by Krispie from Beaverton, Oregon on Wednesday, December 5, 2012

My son works in the deepfreeze of the Midwest (South Dakota) and swears by these socks. I get him several pair every year--even the whacky stripes are okay for a working man.