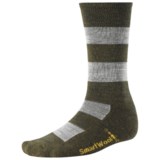 2nds, barely perceptible blemishes. Underfoot cushion and enough length to wear with boots, SmartWool's Double Insignia socks make the perfect walking companions, and keep things fresh, cool and dry thanks to soft merino wool.
Average Rating based on
75
reviews
4.706666
0
5
Reviewed by Warren from Immediately on Wednesday, July 27, 2016

These are terrific socks, with very slight imperfections where the gray color bleeds into the yellow. I found one instance of tjis happening on each sock. Very minor. Buy with confidence.

Reviewed by Davey Crockett from Tennessee, California on Saturday, April 16, 2016

Looked great out of the package. Felt cozy and warm. Fit was fine. However, the wool started pilling after one single wear. Not smart at all. What more can you say about socks that fail?

Verified Buyer

Reviewed by etanner from Littleton, CO on Tuesday, December 1, 2015

Comfy and stylish

Verified Buyer

Reviewed by nashvegaspoppie from Nashville on Saturday, October 10, 2015

Love these socks

Verified Buyer

Reviewed by KF from Olympia, WA on Thursday, October 8, 2015

Bought these for a gift. Wish I bought a few more.

Verified Buyer

Reviewed by Bc-sea from LA, CA on Monday, October 5, 2015

No issue with these socks. Everything you expect from Smartwool.

Verified Buyer

Reviewed by tom10i from Florida on Wednesday, April 15, 2015

Needless to say, these socks are splendid. They fit well and look great. Rarely have I encountered a company which does a few things as well as SmartWool. Socks are always well made and very durable. Same goes for their layering tops and bottoms.

Verified Buyer

Reviewed by Pastor Dave from Iowa on Sunday, April 12, 2015

You just can't beat the comfort of a Smartwool sock. The price is right too.

Verified Buyer

Reviewed by Mainer from Maine on Sunday, March 29, 2015

Lots of use and still hanging in there!

Verified Buyer

Reviewed by Gord from Arkansas on Saturday, March 28, 2015

These are the best socks I have bought for years I love them and will buy more.

Verified Buyer

Reviewed by David from Grand Rapids, MI on Thursday, March 5, 2015

received these socks - washed and ready to go. In Michigan this time of year, are very comfortable. I am not sure if they are seconds but if so I cannot tell. At this time and with minimal use, I am very happy with these SmartWool socks

Verified Buyer

Reviewed by Drstovetop from Seattle Washington on Thursday, March 5, 2015

I wear Smartwool socks (well wool socks in general, but mostly Smartwool) for work. I have been wearing cotton for years and my feet just stink after a long day. Not with wool., SmartWool makes great design and these socks last so much longer than my cotton socks. It is painful sometimes paying for one pair of socks what I would pay for 3-6 pairs of cotton, but in truth the wool socks outlast the cotton anywhere from 6-10x longer. A pretty easy choice in my opinion.

Each pair is a somewhat different style. The Double Insignia socks are a middle weigh sock which is nice at times because my feet get really warm sometimes. And most importantly, they are comfortable; I never want to take them off.

Bottom line: If the price is the only thing keeping you from purchasing these socks, just buy them. You won't be disappointed.

Verified Buyer

Reviewed by Jenn V. from Concord. MA on Sunday, January 11, 2015

Great socks at an amazing price. My son loves them!

Verified Buyer

Reviewed by Liberator from KY on Monday, January 5, 2015

As any smart wool socks I have own every occasion I like to wear smart wool now. Great for out in town for shopping with jeans...

Verified Buyer

Reviewed by Mountain man from Montana on Thursday, January 1, 2015

Smartwool socks are the best because they are actually in sizes and not one size fits all. You always know these socks will fit.

Verified Buyer

Reviewed by Ame from DC on Monday, December 29, 2014

Nice and cozy for winter walks! I prefer men's socks (I'm female) because they seem to be better quality, last longer, etc. though they are a little bulky around the toes like most men's socks tend to be. I guess women's toes are narrower? These were great, have washed well, and I hope to have them for many winters to come, so long as my husband doesn't steal them. Couldn't find the barely perceptible blemishes on my 4 pr. Recommended.

Verified Buyer

Reviewed by Sandy from Central NY on Friday, December 19, 2014

They are great! Only smaller sizes were available, so I bought 3 pairs for myself (woman). They are super and I've been buying SmartWool for years.

Verified Buyer

Reviewed by Stair Walker from Northern California on Saturday, November 29, 2014

Although seconds, these socks have no perceptible flaws. They are supremely soft, don't sag, keep my feet comfortable during prolonged walking, and have a contemporary stylishness. For comfort, Smartwool can't be beat.

Verified Buyer

Reviewed by David from Dallas on Thursday, November 27, 2014

Very comfortable, only thing I dislike is the irregular marking in white on the socks

Verified Buyer

Reviewed by mhanlen from Virginia on Monday, November 17, 2014

I bought these because they looked acceptable to wear with a suit- at least in my opinion. They have a lightly cushioned footbed, and are very comfortable. I am a 6ft guy with a size 11 in dress shoes and a 12 in sneakers foot and they are plenty big enough. The travel about midway up my calf. These were marked as "irregular" but I couldn't find the flaw. No complaints at all!

Verified Buyer

Reviewed by joel_bob from dayton on Wednesday, July 30, 2014

This is the second pair of these exact socks that I have purchased. Of all my Merino wool socks these are my favorite. They are thin around the ankle and top of the foot and slightly padded on the bottom. I love these socks... and the price.

Reviewed by Blueribboncookies from Midwest on Thursday, April 3, 2014

These, like so many SmartWool products, are just great socks. My whole family loves SmartWool. They are pricier than dept store socks, but so much more comfortable and long-lasting. And with great prices at Sierra Trading, we can affort to have several pairs. The only issue my husband and I have is some of the socks, these Double Insignia included, are too tight around the calf. My husband usually wears a large, but we thought that an XL might be less tight around the calf. Unfortunately no, so these had to go back. Colors are nice.

Reviewed by Allen J from Atlanta on Monday, March 17, 2014

I really like the look, but I don't like having a hole to start with, even in 2nds. Not cool Smartwool and Sierra.

Reviewed by Wintergirl from Wisconsin on Wednesday, February 19, 2014

My husband wears Smartwool all the time. This style works for dress or casual.

Reviewed by frankie from England on Monday, February 10, 2014

A little thinner socks than expected, but overall the usual smart wool quality. Blemishes are not noticeable, and I looked very hard for them.

Reviewed by Kath from Brooklyn, NY on Thursday, February 6, 2014

nice socks. not too heavy, but warm.

Reviewed by Missoula from Montana on Tuesday, February 4, 2014

I'm to sexy for my socks...

Reviewed by Seattle Steve from Seattle, WA on Thursday, January 30, 2014

Nice socks, the only issue is the large word "irregular" printed in white on each sock. otherwise would have given 5 stars

Reviewed by Sarah from Virginia on Thursday, January 23, 2014

Gifted to a fellow who ended up hiking about in a snowstorm. Said these socks saved his feet.

Reviewed by Charva from SC on Monday, January 20, 2014

These socks are subtle in color, both the blue and the grey. They're not too thick, but they do have a little extra padding on the bottom, which is perfect for work.