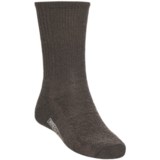 2nds. Performance-oriented merino wool wicks moisture, absorbs odor and controls temperature, so it's no wonder the smartest sock company on earth, SmartWool, incorporates it into SmartWool Hiking socks, made with a hefty dose of good stuff and a cushioned, comfy design.
Average Rating based on
55
reviews
4.563636
0
5
Verified Buyer

Reviewed by Merino Neutrino from Upstate NY on Tuesday, October 24, 2017

Warm and comfy.

Verified Buyer

Reviewed by bierrunner from Washington on Wednesday, October 4, 2017

These socks are cozy, not scratchy, and wash well. They do have the Irregular stamps on the soles, but I don't find anything wrong with them, other than they run a little small. I wear women's 7.5 and the medium fit perfect but they're too small for my hubby (men's 8).

Verified Buyer

Reviewed by Flying Dutchman from Grand Rapids, MI on Wednesday, July 12, 2017

These are 2nds, but don't worry ab out that. Smart Wool seconds are better than most brand 1sts!. These hiking socks are made of a blend of merino wool. The fit is right on, and they are comfortable and performance-oriented.Another great deal from STP.

Verified Buyer

Reviewed by River Man from SJ on Tuesday, June 27, 2017

Great socks. Wore on a three day presidential traverse, very comfortable.

Verified Buyer

Reviewed by Victor from California on Wednesday, March 8, 2017

I know, they're wool but I've owned other wool socks that wear soft and stay warm. Still, these are good socks for hiking.

Verified Buyer

Reviewed by willworkforchange from New York on Wednesday, January 13, 2016

Haven't actually worn them yet but I expect the same standard I always find with SmartWool products.

Verified Buyer

Reviewed by Phil from MA on Monday, December 28, 2015

Great cushion and warmth.

Verified Buyer

Reviewed by Old guy from Hill Country Texas on Sunday, September 6, 2015

I prefer wool socks for hiking, biking and every day use. These socks are lighter (thinner) than normal hiking socks but are very comfortable and can be used for everyday activities.

Verified Buyer

Reviewed by John John from SoCal on Thursday, August 27, 2015

This are high quality, but are definitely a very light cushion sock!

Verified Buyer

Reviewed by Georgia Hiker from Lookout Mountain, GA on Monday, August 24, 2015

Great hiking sock! Thought ordering light weight but got ultra-light instead. Nevermind, still well cushioned and comfortable. Excellent wicking.

Verified Buyer

Reviewed by SLBE Dave from Michigan's west coast on Saturday, August 22, 2015

Wore two different pairs of these socks while helping to clear trees and limbs downed in the Sleeping Bear Dunes National Lake Shore due to an early August wind storm. The weather was warm and the work was warmer. Smartwool controlled temperature and wicked moisture to keep my feet comfortable through several hours of effort, even while wearing goretex-lined boots. My socks were listed as "lightly cushioned", but they provided plenty of padding throughout the effort.

Verified Buyer

Reviewed by Phil from Charlotte on Thursday, July 23, 2015

Smartwool has several models, these are the ultralight weave great for walking and short hikes in hot weather or everyday wear in the Summer months. They are rated as 2nds, but I was unable to find any outstanding blemishes that effected the socks look or performance. They keep your feet cool and dry in the most severe weather. This a great sock for those looking to upgrade from cotton whities to merino wool. Highly recommend.

Verified Buyer

Reviewed by Shawn from NH on Monday, July 6, 2015

Nothing fancy just solid substantial hiking socks.

Verified Buyer

Reviewed by Siberian Husky from ATL on Thursday, April 23, 2015

Just what I was looking for. Lightweight wool socks. I still don't understand why these are 2nds.

Reviewed by The Wife from Delmarva Peninsula on Tuesday, December 10, 2013

These are warm and fit nicely into my favorite shoes and boots. I like the way they look. They stay up without being too tight. Yay!

Reviewed by Mtnbkr from Black Hills, SD on Monday, December 9, 2013

Nice fit. Don't bag out. Very warm in sub zero weather.

Reviewed by Summitdog from Vail, CO on Thursday, December 5, 2013

First off, the socks delivered were not the color indicated on the Sierra Trading Post website. Despite the incorrect color I decided to keep the socks anyway. Unfortunately after only 2 wearings and washes the materials are already beginning to pile and become 'frizzy'. I've had other Smartwool socks with a years worth of wear and washes that don't look as bad as this new pair. The sock was listed as midweight and felt light, unlike other midweight Smartwools I've purchased. I should have sent them back when they first arrived and were the wrong color.

Reviewed by Randall T from Virginia on Wednesday, December 4, 2013

A great hiking/everyday cool weather sock. Warm and good cushion, but still thin enough to wear with my everyday shoes. Exactly what I was looking for.

Reviewed by Trail mom from Virginia Beach on Wednesday, October 30, 2013

Smartwool clothing is some of my favorite, and these socks are no exception. The heel and toe areas are padded, but not so much that I can't get my casual shoes to fit while wearing them. They do have "irregular" stamped on the sides, and I tried my best to see what the issue was, and didn't find anything other than a band of yarn that's slightly darker than the rest.

Reviewed by Dennis from Ohio on Friday, October 18, 2013

I love wool and these SmartWool socks do not disappoint. Soft, warm and good cushion. My only regret is that I didn't buy more pairs.

Reviewed by CeeCee from Wisconsin on Friday, October 18, 2013

SmartWool socks, even as 2nds, are always a good investment. I would never pay full price. Love my SmartWool!!

Reviewed by Clion from Colorado on Thursday, September 26, 2013

Good fit, warm and comfy socks.

Reviewed by Katie from CA on Tuesday, September 17, 2013

I bought them for my sister. She likes them and hikes often, so they will get worn out quickly,

Reviewed by George Gates from New York on Monday, September 2, 2013

Size was as indicated, very comfortable, good support, breathable, cannot ask for a more comfortable sock. I own a horse farm, am on my feet 14 hrs a day, will be ordering more of these socks.

Reviewed by Jane Warren from New York on Sunday, August 18, 2013

SmartWool socks are the absolute greatest! I buy them all the time. This purchase is for Christmas stocking gifts!....and of course, ME!
I love them. They are comfortable....warm and wear exceptionally well, and Derailed's prices are unbeatable. Wouldn't go without them...or Derailed!! What a great web site, so glad I found you!!



Reviewed by Randy Randy from ohio on Saturday, April 13, 2013

Size not actual


Reviewed by Michael from Kentucky on Thursday, April 11, 2013

The footbed has a nice thickness and the material is good quality wool but the instep is on the thin side and will not provide enough cushion with my work boots. I wear heavy weight merino socks religously in all seasons and insist on the thickest weight available. They eventually get thinner with wash and wear. Wigwam and goodhew are among the best I've found.

Reviewed by Easy On from MD on Tuesday, March 19, 2013

Feel thin but are quite warm with 75% merino wool. Quality excellent. No blemishes found. What a great sock for the price!

Reviewed by Slim from Wiscaaansin on Thursday, March 14, 2013

They are smartwool socks at an good price, what else can I say? They fit true to size, breathe well and have the perfect amount of cushion. Be aware however that the socks I got are branded as irregulars, I may have missed that in the description, but still for the price I am happy

Reviewed by Jane Warren from New York on Tuesday, March 5, 2013

Great...warm...wonderful!! Can't say enough about SmartWool socks! Our whole family loves them!!