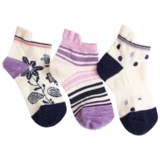 2nds. Pick up this fun three pack of singles and let your little girl mix and match for her own funky style! SmartWool's micro socks feature fun, girly patterns and the comfort of lightweight merino wool, the perfect backdrop for her unique sense of fashion.
Average Rating based on
24
reviews
3.791666
0
5
Reviewed by Zoe is a Cat from Zürich, Switzerland on Wednesday, February 26, 2014

Agree with other reviewers. Cute socks, but I also did not read the description closely enough to realize that I was getting 3 single socks. Good thing I purchased another set in a different color, but Punkie Brewster style is back, right?

Reviewed by Katrechko Olga from Kirovo-Chepetsk on Sunday, December 29, 2013

? ???? ????? ????????,??? ??? ?????? 3 ?????? ?????,??? ??????? ? ???? ???????? ???????.?????? ????? ???????? ?????? ????????,????? ??? ????? ????? ???? ??????.

Reviewed by mrsnikkiwright from Idaho on Friday, December 20, 2013

Typical smartwool. Fit true to size, wash, and wear well and my 3 year old loves them. Although, I must not have paid close enough attention to the description, I thought it was 3 PAIRS, its just 3 socks. 3 single socks.

Reviewed by Walking woman from Minnesota on Friday, November 22, 2013

These are Smartwool socks - that says it all. Great quality and wear oh-so-well! The only thing I don't understand, is why 3??? I didn't read it very well and assumed it was 3 pair. Not so - 3 socks.

Reviewed by Karen, Evies Nana from Georgia on Wednesday, November 20, 2013

I ordered two sets of these socks because they were such a good buy. But when they arrived there was only ONE sock in each pattern. I have never heard of this concept. So I sent them back. Smart wool a great product, this concept not so much.

Reviewed by jamazon from colorado on Friday, November 8, 2013

These are cute little socks that are a great price. Although it clearly says 'three pack of singles'-it just never crossed my mind that there would be three socks without a mate. I am ordering another set so I have three pairs that match. I know that mis-matched is the style but this is when my OCD overrides my 'cool'.

Reviewed by frogpod from Korea on Friday, November 8, 2013

Super great excellent socks for my 4 yr old daughter. The socks are bit large, but will fit her for 2 winters. These are 3 season socks - Fall, Winter, Spring. Great colors, great material. We have bought plenty of SmartWool stuff in the past. I have never been disappointed with the kids socks.

Reviewed by Bert from Pittsburgh, PA on Tuesday, November 5, 2013

My daughter loves to mix up socks that already have matches, so when i saw an already mismatched pack, i was sold. Here are the other reason they are great. 1. i don't have to match them after they are washed 2. smart wool is super cozy 3. they are pink.


Reviewed by karlos from boise on Monday, November 4, 2013

like other reviews, i missed that this was a set of singles. i've since ordered another set so there are 3 matching sets. great product, great price, just order 2 if you want them to match.

Reviewed by Anri from Ukraine on Sunday, October 27, 2013

Good socks... But marketing course creators I really do not understand. What's the point in three different socks? I would also realized 4 different sock that you can combine among themselves... When I received my order on the website not had the desired size, so order still the same, to collect a couple, I can't. I'm very unhappy with the purchase of...