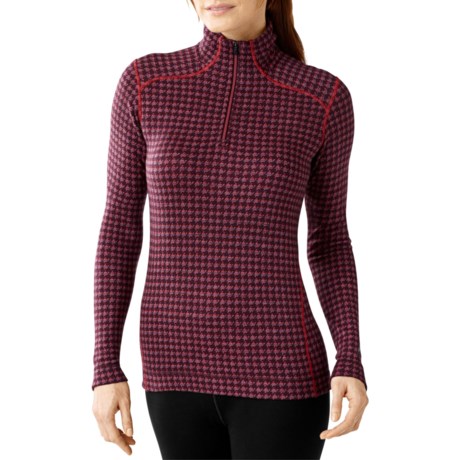 I wear mine for winter activities, not hard core sports.
It's a true sweater, not a compression shirt.

I am not a runner Alyssa so I can't say anything about that. I enjoy horse back riding and find the SmartWool base layers perfect for riding in a wide range of conditions. In the colder weather I use it as a base layer and as the day warms up can take off the outer layer and ride only in the base layer. If it gets even warmer I just unzip the neck and push up the sleeves. I have ridden on days where the temps range from 50 degrees F in the morning to 75 in the afternoon and been totally comfortable. Our rides average about 3 hours. SmartWool base layers are the best garment to wear when you sweat since they wick moisture away and are always great against your skin; never clammy.

I've used this as a single layer when it's cool outside and as a base layer when it's colder during my early morning runs and it's been fantastic. I normally run five miles a day and this really has kept me warm, dry, and comfortable. I highly recommend this shirt but keep in mind some people are sensitive to the material so I would try this on at the store first if you've never worn this brand before. Also, it will give you an idea of what size you should get based on how you want it to fit. Regarding the marathon, I think it will hold up just fine but you should be able to better gage how well it will perform after your first run.

I would think this should work fine for running.

I completely agree with Nola. I've run 5ks to half marathons in every kind of performance fabric, and this is by far my favorite shirt to run in when temps are in the mid-50s or below. My skin is very sensitive and I can't wear most wool, but these shirts are super soft. They wick moisture and insulate beautifully, yet i have yet to overheat in mine.