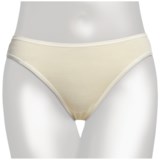 2nds. Soft, fine merino wool is the superstar of SmartWool's NTS bikini underwear, a lightweight, comfortable design with the superior performance of premium, stretchy fibers.
Average Rating based on
61
reviews
4.262295
0
5
Verified Buyer

Reviewed by Bryan the runner from Kansas City on Monday, December 14, 2015

This was such a great deal on these SmartWool panties! I'm a little bummed I didn't discover these sooner or I would have bought more.

These have great coverage and feel absolutely fantastic against my skin. My only complaint is that one pair was a tad smaller and a bit lower cut than the others. I guess I'll just wear those on skinny days. ;)

Verified Buyer

Reviewed by John doe from Ca on Saturday, December 5, 2015

I really like these. I have all the other wool underwear from different brands and I buy them in different sizes from large to extra-large because I like to wear them really loose. These I bought in my actual size and they feel great. I have these in a larger size and they seem to not stay in place so I would say the key is getting them in your actual size.

Verified Buyer

Reviewed by Santi from East Bay Area on Wednesday, December 2, 2015

I suggest sizing up and even then be prepared for skimpy coverage. The fabric is so nice.

Verified Buyer

Reviewed by fiftyfour from Minnesota on Monday, November 30, 2015

The feel of these wool panties is very different - takes some getting used to. (I'm comparing them to cotton.) Plus these are very skimpy bikinis -- I would have liked a tad more seat coverage. But it's very hard to find extra small panties and I'm glad to have found these. My hip measurement is 34 and a half, and the fit is good. I ordered the Persian Red and I love the color.

Verified Buyer

Reviewed by Mtn chica from Big Sky, MT on Friday, October 30, 2015

Super comfy, not itchy. Look really nice and fit very well. I usually consider myself to be a small, and I got a small, and they fit perfectly. The edges don't cut in like a lot of other panties do. Of course, as most of these cuts seem to, I still end up getting a wedgie quite often. Not sure what is entailed for that not to happen...

Verified Buyer

Reviewed by North to the Future from California on Thursday, September 3, 2015

Wool panties? Who'd have thought? But I'm hooked! They are buttery soft and not itchy. In hot southern California summers they are comfortable. Even when sweaty and damp they still feel dry... I don't know how that's possible! No odor. I wash by hand at night and by morning they are dry.

Leg openings are a little high cut but I don't think they are excessively high. I wear size 12 pants and the XL underwear fits me perfectly. A bum larger than 12 might find these a tight fit. I wish the tag was printed instead of sewn in, but I don't really feel the tag as much as I thought I would.

Overall, I'm a convert and have officially gotten rid of all my cotton underwear. Wool all the way!

Verified Buyer

Reviewed by Jezza1364 from Philadelphia on Thursday, August 27, 2015

I love these undies! Very sexy and still light and cool. Already bought another pair. The only down side is sometimes they bunch up in the rear but only when I wear it with yoga pants.

Reviewed by Shashalala from Pittsburgh on Monday, August 17, 2015

These gutchies are pretty great, except for one thing: they are made for only the most petite of posteriors. I feel like this evens out in some ways: usually, underthings that have so small a surface area tend to leave horrible VPL, cutting into my cheeks and riding up my... *ahem,* but these don't do that, at least not much. They do, however, threaten to do so by their sheer scantiness. It's a bit paranoid making!

I find that I can wear them with pants (both snug high-waist jeans and looser dress and hiking pants), but can't do them with skirts or dresses without tights because they do ride up with ladybottoms. (I do realize that I've contradicted myself somewhat. Apologies!)

For reference's sake: I'm 5'5", 140 lbs, thicker in the thighs and bum area but not disproportionately so (still pretty much an hourglass), solidly in the medium size range as per Smartwool specifics and most other brands.

Verified Buyer

Reviewed by Nancy from Minnesota on Monday, August 3, 2015

I love this like I love all SmartWool products.

Verified Buyer

Reviewed by AnnetteZ from California on Friday, July 31, 2015

Wore these on a 6.5 mile hike while camping. They stayed where they should and were comfortable. I washed them out by hand at night and they were dry by morning. I've only worn them once, but they seemed like they might stretch over time, just my opinion.

Verified Buyer

Reviewed by megan from san francisco on Friday, July 24, 2015

I ordered a bunch of these undies for traveling and outdoor sports, and they're great! They run true to size -- I wear a small in undies from Target, Victoria's Secret, etc and the small in these fit me fine. The fabric is soft and not itchy, the quality is good, and they have held up well through many uses and washes so far.

Verified Buyer

Reviewed by Melissa from Texas. on Monday, July 13, 2015

I have a small and a medium of these. The wool is great if you're sweating a lot (working outside in Texas for example) because it's thin, it breathes and it dries quick. This nts panties don't have great elastic though. The small seems rather snug and the medium a little loose. I doubt they'll last too long with that elastic.

Verified Buyer

Reviewed by jagvt from Vermont on Wednesday, July 1, 2015

These fit so well I ordered 2 pairs. These were more comfortable than I expected, and really like that they do not ride up.

Verified Buyer

Reviewed by Hiker Chick from CO on Thursday, June 25, 2015

This are fantastic! I got them in preparation for a long backpacking trip and absolutely have loved them. They feel like cotton underwear but have all the perks of wool. They're incredibly comfy and really cute! However they are a little thin and might not be the best underwear-swim suit conversion for the trail (if modesty is your goal).

Verified Buyer

Reviewed by Hiker Kate from Ohio on Thursday, June 25, 2015

I bought several types of wool underwear and these are my favorite by far! They are very thin and breathable. Perfect for summer hiking. I normally wear a medium in underwear and got a large in these so that they won't ride up... I went back and purchased more so I have 8 pairs now!

Verified Buyer

Reviewed by Sandmonster from St. Louis on Friday, June 19, 2015

Once you go Merino, you'll want it in everything you wear. This underwear is my favorite for hiking and long trips. It has the low-stink properties of Merino, it wicks, and it's just really comfortable. They fit much more flatteringly than the image as well, these are not high rise briefs but fit the way I like, which is a lot lower, three to four inches below belly button. I bought my first pair for a 28 day rafting trip and they performed wonderfully so I now own them in every color.

Verified Buyer

Reviewed by snowbabe from Florida on Thursday, June 18, 2015

I like the feel of the panties and they fit great in the bottom but the front of them are very skimpy, not at all what the picture depicts.

Reviewed by BackPacking Angel from Atlanta on Friday, June 5, 2015

Bought these for backpacking but like them so much I plan on ordering a couple of more pair to wear when exercising in the summer.

5'5' 135lbs and the mediums fit well

Verified Buyer

Reviewed by backpacker from Seattle on Friday, June 5, 2015

Material is lovely, but cut is very skimpy. I'm usually a S/M and I ordered an M, which was still too small. Didn't provide the coverage I would be comfortable with for sporty/active panties.

Verified Buyer

Reviewed by Water Girl541 from CA on Thursday, June 4, 2015

Lightweight fabric and a flattering cut, fit well under mid rise hiking pants without showing much of a panty line. Didn't notice any smell after a long hike either. True to size, the medium fit my size 8 tush just fine.

Verified Buyer

Reviewed by teachHikeSleep from Tennessee (TN) on Monday, June 1, 2015

I bought these for day hiking and backpacking trips. They are comfortable, and good coverage for lots of active walking (no wedgie). They dry quickly and don't feel moist when hiking (even while hiking in the southeast).

Reviewed by gvmel from Bellingham, WA on Friday, May 29, 2015

I was disappointed to find these were skimpier than the STP photo shows. They arrived packaged in their own box and as soon as I saw the pic on the box I knew I was in trouble. The pic on the box is a more acculturate representation of the actual product which is a bikini. The sides on my XL pair measured about 1.5" The photo on STP looks more like 2.5" I am attaching a photo of these same panties found on another website that is more accurate. I returned these but would definitely try another, fuller coverage pair if they show up here.

Verified Buyer

Reviewed by AnnaLaurie from Arizona on Wednesday, May 6, 2015

These are simple, well made, and soft. I'm sure I'll enjoy them.

Verified Buyer

Reviewed by Bernadette from California on Sunday, May 3, 2015

Lightweight, good-fitting, perfect for running and backpacking. They wick moisture and remain odor-free. I ordered two more pair.

Verified Buyer

Reviewed by Spins from Minnesota on Tuesday, April 14, 2015

Great quality, slides a bit in loose clothing.

Verified Buyer

Reviewed by Maylaya from South Dakota on Friday, July 25, 2014

Definitely a good buy! I ordered a medium size (weighs 115) and fits perfectly. The material dries quickly and soft to skin.

Verified Buyer

Reviewed by RamonaOnABike from France on Sunday, June 29, 2014

Love merino everything, so of course I'll buy merino panties when they're on sale. They're so expensive, but worth it. Super soft, easy wash, dry fast. Great for bike touring (which is what I like to do).

Verified Buyer

Reviewed by organlady from Seattle on Tuesday, June 24, 2014

I got one pair of these underwear to try out and liked them so much bought two more. I wear them on hiking/biking trips and they dry quicker/smell better/are less irritating overall than cotton. But are super thin and comfortable (when I first thought of wool underwear it sounded like a terrible idea!). Not sure how long they will last but they are worth it as long as they do hold up.

Reviewed by North Shore Mom from Boston, MA on Monday, June 23, 2014

I admit that I am picky about underpants. I do not think I should have to pick wedgies in public. These underpants, for any woman with anything other than a flat backside, are a guaranteed wedgie machine. I typically wear cotton bikinis, and ride-up is not a problem. Pantylines are not a usual worry for me. I am currently wearing these on a long trip through Italy (able to drip dry in the worst of conditions) and cannot WAIT to rip them off once I arrive stateside. The positives are that the fabric is great and they are comfortable in the 90 or so degree heat in Rome. The problem is that they are all but unwearable because of the wedgie situation. If you see an American in Italy with a major wedgie this summer, you'll know it's me.

Verified Buyer

Reviewed by Mega Smiles from Asheville, NC on Monday, June 9, 2014

Very comfortable material and fit. I have been using exofficio underwear on long (hot) hikes recently, but they somehow always trapped in sweat and odor. This product is the complete opposite- it's definitely breathable, odor resistant. It also dries quickly. I bought two more pair and have convinced friends to also invest. I cannot recommend enough!