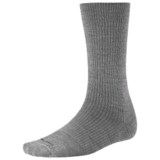 2nds. SmartWool's On the Job socks are constructed of wicking, breathable and temperature-regulating merino wool, sure to keep your feet cool and comfortable during your toughest days on the jobsite.
Average Rating based on
22
reviews
4.318181
0
5
Verified Buyer

Reviewed by Alex from Michigan on Monday, June 22, 2015

Perfect for everyday, year round wear, casual & business

Verified Buyer

Reviewed by Sheena from Pennsylvania on Friday, December 26, 2014

Tight around the calf.

Reviewed by Johnny the Hiker from Colorado on Thursday, August 15, 2013

I bought 3 pairs of these socks because they came recommended by someone who swears by them. They do indeed keep your feet cool. Although i never have had a problem whit my feet sweating, so I'm not sure if you want to take my advise on that. My complaint is these aren't even 3 months old and out of 6 sock one has a hole and the other 5 have serious wear and will most likely get a hole the next time they are worn. To be honest I can get a 3-6 pack of hanes socks for the price of 1 pair of these and they hold up 5 times as long. I bought this kind especially because I work construction and i'm on my feet all day. These are categorized as "on the Job socks" If your job is the type wear you don't work on your feet they may work for you. If not stay away!

Reviewed by Jim from metro nyc on Sunday, April 28, 2013

Normally SmartWool are quite comfortable, and I have a lot of different ones, but this particular model & batch may be too tight in the ankles for some. For the SmartWool's in general, I find I am happier when I "round up" in size, which also helps with minor shrinkage that can occur, but with these in particular, size XL was still tight in the ankles.

Reviewed by MA from CA on Sunday, April 14, 2013

I love these socks. They the high quality you expect from SmartWool. While the description makes it sound like they're for for people who work construction or trades, anyone who is on their feet a lot will appreciate the supportive instep band and the way these socks stay put, not bunching up or sagging at all. They gray color may not be the most stylish, but they're neutral and can blend with most things and if they get some ground-in soil it doesn't show. So: not only comfortable, but practical!

Reviewed by HyperHysers from New Hampshire on Saturday, April 13, 2013

We ordered these for my husband. They are great for his active lifestyle. He wears them to work, to skate, to run, to ride his bikes, etc. Of course it's Smartwool. We love this company and our whole family buys their sock from Sierra Trading posts great selection of Smartwool products.

Reviewed by sweet Pea from Western Washington State on Tuesday, April 2, 2013

I've been wearing Smartwool socks for years, mostly heavy boot wt. which lasted 15 years (Just worn in Winter). But I need lighter weight socks for work, an open air organic Farmers Market-- they are perfect for casual/dressy shoes. I've been telling my nearly 80 yr old mom for years about these socks and finally she has come around too. Oh la la, cheers to Smartwool!!!

Reviewed by DON from IA on Monday, April 1, 2013

Nice snug fit, to the foot. Very warm & comfy. My feet did not sweat.

Reviewed by Phil G from Pittsburgh on Saturday, March 30, 2013

Of the four pair that I bought together, these are the best. They feel great on my feet and look nice too. I can't tell what makes these socks seconds. They're great.

Reviewed by BroadCreekDave from North Carolina on Saturday, March 30, 2013

This sock is worn in steel toe boots on an aircraft flight line. I have no issues with the comfort or wear of this sock.