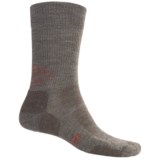 2nds. SmartWool's Outdoor Sport light socks are ideal for everything from biking to running; the moisture-wicking, temperature-regulating merino wool keeps perspiration and comfort in check, and the light, half-cushion sole lends non-bunchy support.
Average Rating based on
42
reviews
4.809523
0
5
Verified Buyer

Reviewed by Hiker/Backpacker/Camper from Wisconsin on Monday, March 27, 2017

Bought these for my husband and bought the purple version for myself, and we both like them. They are very comfortable and keep your feet dry. The extra padding in heel/toes area is nice and will hopefully prevent blisters.

Verified Buyer

Reviewed by The Dude from Sierra Trading Post on Thursday, March 2, 2017

These are great. I've had Smartwool brand socks in the past and they seem to last longer and out perform (warmth and lack of odor) most of my other socks/brands. It might be the higher merino content, but even when the boots get sweaty or I'd normally feel clammy on my toes these socks continue to breath and keep my feet comfortably warm. I've gone back and ordered MANY more pairs. I have not found the quality issue that labels these seconds. I did order a size up. Being on the cusp at an 11.5 sometimes 12 size foot I opted for the XL and they fit perfect after the first wash. Stay up on my calves too which is also a huge game maker/breaker.

Verified Buyer

Reviewed by Fast, old guy from Michigan, Iceland, Haiti, etc. on Wednesday, March 16, 2016

These are substantial socks, yet lightweight. They are perfect for many active sports--thick enough to provide the necessary cushion, but not so thick that they change the fit of carefully sized running or light hiking shoes.

Verified Buyer

Reviewed by KEAW from Indianapolis on Wednesday, February 10, 2016

I wear a size 13 - and once I started wearing the Smart Wool socks available in XL they have become the staple in my sock wardrobe. High quality, fit well, and seem to last forever. I always watch Sierra for interesting designs and exceptional prices. This particular style will go well with my jeans and walking shoes.

Verified Buyer

Reviewed by Paul a millwright from Washington on Tuesday, February 9, 2016

I were my smart wool socks all year log never to hot and always warm.

Verified Buyer

Reviewed by TraciInVA from Virginia on Wednesday, January 27, 2016

Bought these for my son to use while playing ice hockey. Great item!

Verified Buyer

Reviewed by HoosierGal from Indiana on Tuesday, January 12, 2016

I've never been able to wear wool next to my skin until I discovered SmartWool. I've never had socks feel so good.

Verified Buyer

Reviewed by Redfish7 from Texas on Monday, January 11, 2016

well made and and wear well

Verified Buyer

Reviewed by Old lady with a runny nose from California on Friday, January 1, 2016

These are soft and warm, and in a neutral color I can wear with almost anything. They wash well; I line-dry them.

Verified Buyer

Reviewed by 3dvizwiz from Boulder, CO on Sunday, December 20, 2015

Well, I couldn't find much in the way of these being seconds, so I'm thrilled. Thanks, STP!