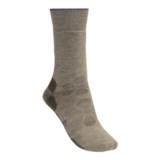 2nds. With enough cushion to accompany a serious hiking or backpacking boot and itch-free, temperature-regulating merino wool, SmartWool's Outdoor Sport socks are a cold-weather slam dunk.
Average Rating based on
71
reviews
4.746478
0
5
Reviewed by Tricia from Minnesota on Thursday, December 19, 2013

I wore these sock Snowshoe running when it was -15 outside and my feet stayed very warm. The size is perfect and I have washed and dried them and no shrinking.

Reviewed by the sock wrecker from Virginia MN on Friday, November 22, 2013

I LOVE them. Wear them all the time winter and summer. I bought a bunch last winter and refreshed them just now. I LOVE smartwool socks. And after attempting to knit wool socks - I think they are a great bargain. Warm, wool, fit properly, stretchy, don't shrink. Love them. I like both the thin socks and the heavier ones depending on the day. I wear them with boots, or sandals. I wear the thin styles with "shoes".

Reviewed by ibebrenda from Denver, Colorado on Tuesday, November 19, 2013

I chose Smartwool because they endorsed by those who covet the humane treatment of animals in the use of products. Preferably, I would like to purchase no animal products whatsoever. Yet, I cannot find a product that will keep my feet warm in the winter. I have poor circulation in my already small female feet and they become cold as ice.
This company does not buy from suppliers who torture sheep through MULESING:
http://www.treehugger.com/sustainable-fashion/smartwool-requires-wool-suppliers-to-end-mulesing.html

Now, if they only made wool slippers!!!

Reviewed by mtinnkeeper from Montana on Thursday, August 8, 2013

SmartWool makes the best wool socks of any wool socks I've owned. The wool is never scratchy, holds up well after many launderings (I never put them in the dryer--just air dry them; don't know if this makes a difference in longevity of the socks) and a just right comfortable (they never scrunch down).

Reviewed by Comfort Seeking Sally from Arizona on Monday, July 15, 2013

Have bought SmartWool PhD socks for several years now for hiking because of their cushiony comfort and the fact that they are warm in winter and cool in summer (and I'm talking 115 degree Phoenix summers here, folks!). These were no different, was just glad to get them at such a good price. I will be ordering at least a few more pairs, as I have never been able to afford more than a pair at a time elsewhere. Love Sierra's price for these!

Reviewed by coffee from Colorado on Monday, May 13, 2013

Love Smartwool. The foot bed is very cushioned, these socks are very comfortable.


Reviewed by Living the dream from Virginia on Tuesday, April 30, 2013

Love smart wool socks. These are a great style. They are a bit thick for my style of wear.

Reviewed by Flat4u from NY on Wednesday, April 17, 2013

Best brand for sock. Unbeatable price from https://www.sierratradingpost.com.

Reviewed by Red-sectora from Colorado on Tuesday, April 16, 2013

I am a camper and a hiker, and I bought these socks for my wife who is not yet (we are newly weds). She loves them! They feel great on her feet and she loves the 'foot hug' part by the ball of the foot which keeps the socks from bunching up in her toe compartment. She likes the look/ color, which doesn't affect the performance of the sock, but these were the best choice! They will keep her happy during our adventures! I will be buying more for her when she needs them, but I am still wearing mine which are darn near 8 years old now!

Reviewed by James from Florida on Thursday, April 11, 2013

Exactly what I was expecting. So comfortable. These socks do not make your feet sweat.