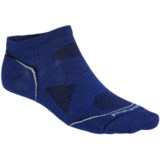 Closeouts. SmartWool's PhD Multisport Micro socks offer superior breathability and moisture-wicking comfort for wherever your athletic endeavors take you. Crafted of lightweight merino wool blended with nylon for durability.
Average Rating based on
28
reviews
4.464285
0
5
Verified Buyer

Reviewed by Jeremy Hoffman from Mountain View, CA on Monday, July 14, 2014

I have mainly used these socks for biking and for sleeping in (I get cold feed at night). The socks have exceeded my wildest dreams (at least, my wildest dreams whose central focus were socks). They almost feel like having nothing at all on my feet, except my feet are a little warmer, which is exactly what I needed. They also keep my feet cool when biking. The smart wool seems really effective. These socks never accumulate any smell.

I will say that these socks are quite thin, so keep that in mind. I don't think you'd want to wear these if your walking shoes are somewhat loose, because you might slide around.

Verified Buyer

Reviewed by Davekstone from Michigan on Sunday, July 6, 2014

I made the switch to SmartWool socks for running back in 2006 and have been blister free ever since. These socks do a great job of working moisture and preventing hotspots while on long runs. I usually buy 5-6 pairs every 5 years, and they still perform just was well as when new.

Verified Buyer

Reviewed by Man with sensitive feet from Northern Minnesota on Wednesday, June 25, 2014

The socks are very good, comfortable and keep my feet dry. However, I went on Sierra Trading Post to order the heavier SmartWool socks but there were none available. Very disappointed in that.

Verified Buyer

Reviewed by Reno from Oakland on Tuesday, June 17, 2014

The title reflects my view on this sock. It is cut low and feels good. It breaths and doesn't get stinky after a long run or hike. In turn, my shoes stay nice a little longer as well. If I was to criticize, I would complain about the color and want a grey or black, but the sock is so amazing I won't. It's so cheap and they probably only get the one color at STP. thanks for making my sock dreams come true!!!!

Verified Buyer

Reviewed by Samtrz from Pennsylvania on Wednesday, June 11, 2014

These would be great if they were actually the size listed in the description or on the packaging. Unfortunately, the men's larges they sent are actually the size of women's large (men's medium) and so don't fit my feet. Stupidly, I tossed the packaging after verifying they matched the invoice but before trying to wear them so can't make a return. They fit my wife, though, so she is happy with them.

Sizing aside, they are of typical smartwool (i.e. high) quality. I was expecting these to have the lightweight level of cushioning rather than the ultralight level they are, based on the description, but that wasn't a deal breaker.

Verified Buyer

Reviewed by Man in gym from Minnesota on Tuesday, June 10, 2014

SmartWool makes a great sock, long lasting and comfortable.

Verified Buyer

Reviewed by Vance from Denver on Tuesday, June 3, 2014

comfortable, versatile and able to wear more than once without stinking - good purchase!

Verified Buyer

Reviewed by Anonymous from ny on Wednesday, May 28, 2014

these are just what i was looking for -- a nice, lightweight wool sock, with the PhD nylon where it counts --

-- these feel fantastic on my feet!

Verified Buyer

Reviewed by jt from Charlotte, NC on Wednesday, May 21, 2014

Wore these for a 3.5 mile run

Verified Buyer

Reviewed by vandamer from Michigan on Tuesday, May 20, 2014

Reordered 4 more pair. My favorite socks for trial running.

Verified Buyer

Reviewed by madskilz from Sarasota, Florida on Tuesday, May 13, 2014

I have worn these to run and walk in, 5 miles at a time. If you use socks for fit and for cushion, these aren't the ones to buy.

Verified Buyer

Reviewed by ndc from NC on Thursday, May 8, 2014

Great fit, feel, and thinness. I don't like any cushioning as I run with minimalist shoes on both road and trail. These things are perfect, should have picked up 10 more pairs.

Reviewed by DJ from Ohio on Monday, March 31, 2014

These are comfortable socks. I haven't worn them very much, but they seem to be very nice.

Reviewed by SteveP from Massachusetts on Monday, March 31, 2014

These sock have the right amount of compression through the arches and heel cup. There are the right height for my runners and hikers.

Reviewed by Quality bargain shopper from spring lake, mi on Saturday, March 29, 2014

Smartwool is awesome as usual. These socks feel "thinner" and are meant to be thinner. The comfort and quality is usual for this brand.
My hubby loves these!

Reviewed by jason from colorado on Thursday, March 27, 2014

I like the way the sox wrap the top of my foot, it feels like there is support there and is nice for running.

Reviewed by Mom Anita from North Carolina on Tuesday, March 18, 2014

Very comfortable. Stay in place and stay up. They keep your feet warm and dry. Great buy.

Reviewed by JC from Arkansas on Tuesday, February 25, 2014

I love Smartwool socks! These are no different. they are quite thin but my past experience with smartwool tells me they will last a while. I do NOT dry any of my wool sock period. Smartwool socks are soft enough and will dry very fast there is no need to shorten there life in the dryer.

Reviewed by kj from OH on Monday, February 24, 2014

Very nice wool sock and very thin. Curious as to how they will last. (being so thin)

Reviewed by Dan from Connecticut on Tuesday, February 18, 2014

These are fine socks -- like all Smartwool socks -- however note that the cushion on them is more like their "ultralightweight" sock than the "lightweight" of the running/outdoor sock. That is, the cushion is thinner.

Reviewed by ssdc from Washington, DC on Monday, February 10, 2014

I bought this pair of socks with two others for my boyfriend for his birthday. This one ran smaller than the others, so small that I ended up wearing them instead of him! (I wear a women's 8.5 shoe).

The thickness and size for me works, but it was not the size Medium I ordered for him!

Reviewed by odysseus from Nashville on Monday, February 3, 2014

These are perfect socks for road biking or with loafers for casual wear.

Reviewed by walking addict from Colorado on Saturday, February 1, 2014

My son and I have come to rely on wool socks exclusively, even in the summer. I bought these for him because some of his old cotton pairs were wearing out. SmartWool never wears out, they wick the moisture from your feet, and they keep you cool in the summer and warm in the winter. We live in Colorado and the weather's always changing, and merino wool socks are the best answer. And Sierra is terrific to do business with!

Reviewed by Hiker from Colorado on Tuesday, January 21, 2014

The sock breathes extremely well. However, it feels a little too thin to last very long and feels a tad small (got a L for a 10.5 shoe size) only because the back of the heel feels like it is about to fall off.

Reviewed by Tracy from Arizona on Tuesday, January 21, 2014

I ordered a pair of these for my spouse. He loves the comfort and lightness of them. I ordered another pair in another color he liked them so much.


Reviewed by RLS from TEXAS on Thursday, January 16, 2014

great

Reviewed by Kay the country girl from IN on Tuesday, January 14, 2014

Very nice sock but runs small. My wife is actually wearing them and she likes them.

Reviewed by Steve from Kansas on Thursday, January 9, 2014

The PhD Micro Socks are well made and feel like heaven on your feet. I have purchased many Merino Wool type socks and these are top notch. You will not be disappointed.