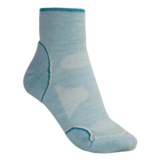 2nds. Warm feet in winter, cool feet in summer... a tall order for other socks, but not SmartWool's PhD Outdoor light mini socks! Made of merino wool, they naturally regulate temperature year round.
Average Rating based on
160
reviews
4.843750
0
5
Reviewed by Comfy Feet from Virginia on Thursday, January 2, 2014

These are absolutely the best socks I have EVER worn in my life - no joke. They are soooo comfortable, warm, and extremely well made. I love them so much.

Reviewed by Cold feet from NYC on Wednesday, December 4, 2013

Nice, warm and wick away sweat. Not too thick so they fit with sneakers and boots alike.

Reviewed by the sock wrecker from Virginia MN on Friday, November 22, 2013

I thought it would be silly to have smart wool booty socks. But I LOVE them. Wear them all the time winter and summer. I bought a bunch last winter and refreshed them just now. I LOVE smartwool socks. And after attempting to knit wool socks - I think they are a great bargain. Warm, wool, fit properly, stretchy, don't shrink. Love them. I wear a womens size 7 and get the small.

Reviewed by Nickygsmom from Boston on Thursday, November 14, 2013

These are great socks, warm enough but light. I wear them almost every day under boots now that it is cold.

Reviewed by Comfort Seeking Sally from Arizona on Tuesday, October 8, 2013

I snap up SmartWool PhD socks for STP because I was buying them anyway at $20.00 to $30.00 a shot at stores. They are humongously comfortable, even provide arch support, and so far have at least kept my tootsies warm on even the rare freezing days in Phoenix when hiking. But even better than that, my feet never get sweaty in them on the 100-degree plus days in Phoenix! I've been wearing SmartWool socks for five years now and also note that they wear like steel.

As stated, I am unable to tell by looking what it is that makes them 2nds. So unless they don't last forever like my others (and I won't know that for years), they are an absolutely terrific buy!

Reviewed by anna from pa on Tuesday, September 10, 2013

I know socks aren't the most exciting thing but these are very very

Reviewed by Legweak from WA on Thursday, March 28, 2013

This is my "go-to" sock for all my outdoor activities year-round. When they're on sale, I buy a few extras to stash away for new adventures.

Verified Buyer

Reviewed by RB from Greeley, iowa on Friday, February 22, 2013

16 years ago I shattered both of my heels (totally) and have had foot problems ever since, including severe arthritis in the ankles, hammer toes, etc.

I've tried all kinds of socks over the tears but never had the results I'm getting with these. I have special custom built tennis shoes with custom orthotic inserts and these socks have made them even more comfortable.

I wear thick soled sandals most of the time in the house and these socks have made them more comforable also.

I spend a lot of time in the house and wear these daily. They are the best socks I've ever worn. Glad I found you're sight and got them at a discount.

Ventilation is very important for my type of foot problems and especially for hammer toes. I don't think there is anything out there to match up to Merino smart wool. I highly recommend it.

Thank You.

Verified Buyer

Reviewed by mcrunner from Drexel Hill, PA on Monday, February 18, 2013

I use Smartwool socks for hiking and running and they are wonderful. These socks being reviewed are for running and they are so comfortable with just enough cushioning. They are warm in winter and cool in summer, just perfect. I bought the oatmeal with green color this time and really like the design.

Verified Buyer

Reviewed by landlover from OR on Friday, February 15, 2013

smartwool socks are the best of the best . there are a few patterns i could take or leave but these are very cute and colors are nice . actually make nice gifts if you can part with them .