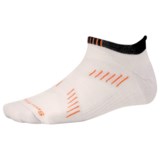 2nds, barely perceptible blemishes. Nothing slows you down, but how about something to keep you going? SmartWool's PhD running socks are equipped with performance-oriented merino wool and WOW technology for cushion just where you need it.
Average Rating based on
86
reviews
4.534883
0
5
Reviewed by dragonjoe from Potomac MD on Wednesday, December 11, 2013

Smartwool socks are always great as expected.

Reviewed by rmcovello from California on Saturday, November 16, 2013

THis is the best sock I have ever worn! It is as though my feet get a super special massage every time I wear them. Thank you SmartWool


Reviewed by AmyJ from Seattle, WA on Thursday, August 22, 2013

I was surprised when I received these, since I usually love SmartWool socks. These were stiff, rough, and puckered at the heel due to poor quality stitching. I returned them. LOVED the Brooks running socks that I got in the same order, though.

Reviewed by Hardman from Salt Lake City, Utah on Tuesday, July 30, 2013

Along with the 1/4 length SmartWool PhD socks, these have become my go-to running sock. They provide the optimal amount of padding for long distance runs while still allowing for quick, responsive movement.

I wear a size 9 in street/running shoes, but actually found the medium to be a good fit.

Reviewed by Joey from colorado on Saturday, June 22, 2013

I love these socks because they're gray, and they go nicely with gray boat shoes, but c'mon Smartwool, I know you can make a better quality sock. Stitching is subpar, some of the sizes aren't accurate, and they just don't seem like Smartwool.

Reviewed by Eric from Colorado on Wednesday, May 15, 2013

Decent socks. The quality leaves something to be desired, especially for a SmartWool product. Threads came loose easily and some of the socks were mismatched in size. I still wear them, but they're not my favorites by any stretch of the imagination.

Reviewed by running girl from california on Tuesday, April 23, 2013

ok so it may just be me but if a sock has seams on it really bugs me, they rub my foot when running and cause issues. this sock has less than normal but they are in weird places, two on the top of your toes and two on your heel/ankle area.

Reviewed by Living the dream from Virginia on Thursday, April 18, 2013

I love Smart Wool socks - for yoga, for cycling, for jogging. Comfortable and great fit. The styles and options let me express my personality.

Reviewed by Allen from Okinawa, Japan on Wednesday, April 17, 2013

Comfortable and durable. I had bought two pair of these in another color for a good price and decided to add a couple more pair. These are good socks. Size seems just right.

Reviewed by Darci from Milwaukee on Thursday, April 11, 2013

I really like these socks. They are light and do not move when I run. I only wish I had gotten several pair! Would buy again for sure.