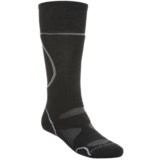 2nds. Made with merino wool, SmartWool's PhD Ski medium cushion socks naturally regulate temperature, wick moisture and repel odors — perfect for the slopes.
Average Rating based on
112
reviews
4.803571
0
5
Verified Buyer

Reviewed by uthinkimaqt from Jackson, Mo. on Tuesday, February 19, 2013

Stylish, comfortable, and do what you expect them to do... Keep your feet warm!

Verified Buyer

Reviewed by doctorsoandso from Norfolk, VA on Friday, February 15, 2013

these socks are great. everyone knows smart wool is the way to go. skied in them several days without washing them...just as warm the last day i wore them, and they didn't smell a bit. they're very long, coming up all the way to my knees, essentially, which, if i had any complaints, would be it. BUT, in their defense, they didn't fall down after a full day of skiing.

Verified Buyer

Reviewed by Eric from Westchester NY on Tuesday, February 12, 2013

These socks are longer than you might expect, easily reaching to the knee. Comfortable and warm especially given the light weight and apparent thinness of material. Unclear why these are marked as seconds, I did not observe anything out of the ordinary aside from that label.

Verified Buyer

Reviewed by wag from mn. on Thursday, February 7, 2013

Bought them for my son..He wears them when he walks in the morning before work. We live in Minnesota,cold weather. He loves them and this is his second pair. I have bought many pair for myself from Sierra...Smart wool rules!

Verified Buyer

Reviewed by Di from Suffield, Connecticut on Thursday, February 7, 2013

I enjoy wearing Smartwool socks 3 seasons of the year.

Verified Buyer

Reviewed by sircricket from colorado on Sunday, February 3, 2013

good service

Verified Buyer

Reviewed by SnowMountainsRiversGuy from Jackson, WY on Thursday, January 17, 2013

I bought these for my wife for her birthday, to replace some older SmartWool ski socks that were finally wearing out. Not sure what makes these "2nds" as it's impossible to find any flaws. The only thing we have both learned, over time, is to always buy one size range smaller than our shoe size, especially for SmartWool ski socks. It helps keep the heel nice and tight for the entire life of the sock, and the sock never feels too small.

Verified Buyer

Reviewed by sen from west sacramento on Tuesday, January 1, 2013

Love it for sportswear in cold season. Knee high socks are excellent with skirts and shorts. Keeps me warm and breathable without blisters at all. Will only wear smartwool socks. The PHD series last me for 4+ years and have not shed any wool. Wash and airdry is the key.

Verified Buyer

Reviewed by Jim from Cleveland, Ohio on Monday, November 26, 2012

Smartwool products are great! The wife loves using them in the winter or just wearing them around the house to stay warm!

Verified Buyer

Reviewed by Buk from Denver, CO on Wednesday, November 21, 2012

This is the 3rd or 4th pair I have purchased of this sock. They are fantastically long. I am greatful to have a sock that actually goes to my knee. When I want / need warmth of the lower leg these are the socks. When it gets really cold I wear them under another pair of heavier socks and life is grand. Great combination for snow backpacking and camping.

Side note: Because they come in so many great / unique colors laundry is easy. I have purchased a different color each time and they easily match post drying.