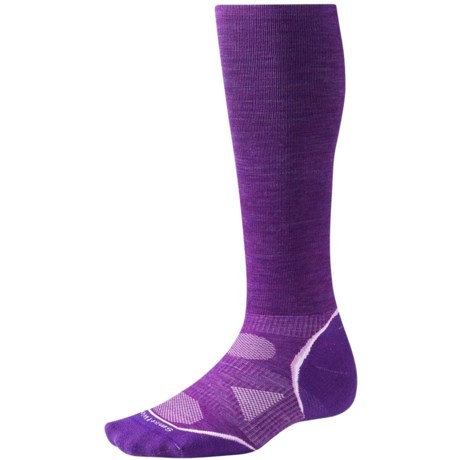 I also wear a women's 9.5 shoe. The size Large fits perfectly.

If you place your cursor on the "small, medium, or large" options/buttons, then a small dialogue box should appear with the proper sizes for both men and women. If you are a 9.5, then a medium would be your best bet...but you are on the edge. The medium 7-9.5 in women's sizing. Different brands run different sizings, you might want to find a brand that includes the 9.5 as not being either the max or min size option.

Not sure. I often find that the sizing charts don't help me. For me as a size 8 shoe with about a 13" calf, the smalls were way too small. I've got two pairs of Large teal colored ones that work well, though at the end of a 10 hour shift, there's a red indentation on the back of my legs. A pair of the black Large compression ones seem a lot smaller, and not wearable for work. Not sure if that's a effect of the "factory seconds" lot. My guess is that the calf size matters more for these than the foot size...

I wear 9 1/2 womens too, I bought a Large and I couldn't even get them on.

My experience with shoes and socks are women's sizes are 1.5 to 2 sizes below a mens (e.g.; women's size 8 will be man's size 6 or 6.5). The same crosses over for socks. I suggest you consider your sock size a women's 10 and look for what would fit a men's 8. I have these socks and they run a titch on the small side, even when being careful to line dry them.... Regardless - love the socks! Have 2 pairs - black and off-white....

just put ur cursor on a size s/m/l and it will tell u what size shoe it fits

Michelle, I wear a 9.5 shoe, also. I order the medium but alsways stretch the length of the foot when I wash them and never put them in the dryer. I tried the large one time but they are too long and bunch up in the toe of my shoes. Be aware that if you need compression around your ankle, these are not the best socks. If you look closely, you'll see what looks like a narrow ribbing around the ankle. That has less compression than the part above the ankle. This allows my repaired ankle to swell. Product #1940p has even compression, if that is what you need.

Hi Michelle,

I wear a size 8.5 women's shoe but I have large calves so I buy the large compression socks. I guessed and it has worked out well.