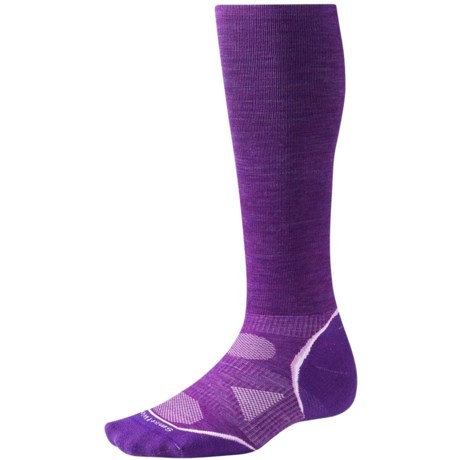 I have no idea whether there is some objective scale of compression, but it would seem that would depend on the size of your leg. I wear a size 7.5-8 women's shoe, or 6 men's, but my calves are pretty large. I got the small. They are tight, but comfortable.

I believe they're 20-30 mmHg but you can double check that on the SmartWool website.

Not listed but if you can find the exact match on the Smart Wool site you may be able to get your answer. These are very snug for sure, had to size up just to get them on.

I'm sorry that I don't know the exact answer. I find them helpful for giving my lower legs a break. I would guess that they are a medium compression.

These are not graded like prescription or diabetic socks. I would consider them medium compression. I have what I would consider normal legs and these are snug. If you have large ankles then they will be tight.

on the packaging I received, it says the compression is 20-30

My guess is 15-20 mmHg. These were tight on me so they felt comparable to a 20-30mmHg sock. I do not think the are rated that high though.

I cannot say with certainty, however, working as a nurse and placing TEDS socks on post-operative patients, and on myself after surgery, these socks feel like a minimum 20mmHg or a little more. Its an effort to put on and remove... Not just great for running/recovery time, but great for long haul transoceanic flights as well which is what I bought them for. Hope this helps.

These are "mid-grade compression support"
There does not seem to be a compression number on the packaging.
Great socks!