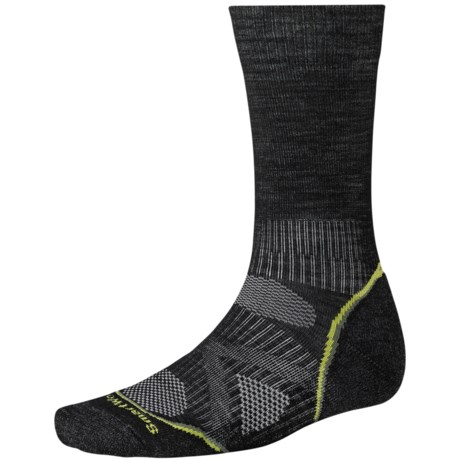 Toasty!
Reviewed by Baconpuffs from Wisconsin on Wednesday, April 2, 2014
These Smartwool socks were recommended to me by a friend with lofty promises of feeling like you were walking on pillows. So, with cautious optimism I picked up 2 pairs of the PhD light outdoor in a color that would work with business casual slacks. I wanted to be able to wear them to work as well. So far I have worn them all day at work at least 4 times and have also taken them on a 4.5 mile hike with a backpack that was lightly weighted as I'm just getting back into it. I'll explain that hike in detail below.

In general, these are without a doubt the most comfortable socks I have ever worn. They keep my feet a very nice ambient warm temperature all over my foot and up my ankles. I do in fact feel like I am walking on pillows. So that much was true. I am used to cotton socks so getting into these was a nice change. I think my only complaint with them is that they get to the point where they feel almost hot after I walked in them for a while.
In relation to the 4.5 mile, lightly weighted hike that I took, the socks started out feeling wonderful as I had come to expect in the prior 4 uses during work. . The first 1.5 miles my feet were nice and warm and the moisture was wicking away from my feet well. When I reached just a little over 2 miles my feet started to feel hot. It wasn't an uncomfortable hot though. The best I can explain it is that I have been walking in wool socks for two miles hot. It wasn't a wet hot, just hot. I didn't mind it. The wind was actually howling pretty good so it was nice to offset the cooler temperatures. When I rolled up on mile 3 I started to feel blisters forming on the balls of my feet. I attribute this to being terribly out of practice. The terrain was all different. Up, down, flat and tapered every which way. Some was soft from snow melting while most of it was dry gravel. I managed to hobble back the remaining mile to find quarter size or better blisters that had formed.

I was about ready to swear these socks off until I pulled them off my feet to feel a nearly completely dry foot that was very warm. I smiled and realized they were comfortable enough to get me back home the last mile even with blisters. That was when I realized that it wasn't the socks, just my lack of practice on my feet walking like that.

TLDR; (too long, didn't read)

These socks are fantastic. They keep my feet warm and dry and I feel like I'm walking on pillows
.
10/10. Would purchase again.

Most helpful positive reviews
Most helpful negative reviews
Similar items and more information in the following areas: