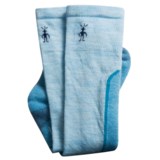 2nds. These SmartWool ski socks are a soft, moisture-wicking merino wool blend that's itch-free.
Average Rating based on
389
reviews
4.694087
0
5
Reviewed by BritinMontana from Montana on Monday, December 30, 2013

We bought these for our daughter for skiing. She loves them and has had no problems with them. In fact, she won't take them off!

Reviewed by Sharon from S.C. on Friday, December 27, 2013

My 84 year old mother saw me wearing some cute smart wool socks and commented on them when I visited her in Michigan before Thanksgiving. She also complained about her feet always feeling cold. She I sent her some for Christmas and she loves them. She noted they fit great and she even wears them to bed. The design was hit with her friends and other family members. Love love Smart Wool socks!

Reviewed by Perugirl from Renton, WA on Thursday, December 26, 2013

I got these for my daughter for Christmas who works in the field for the Department of Natural Resources. She is out doing surveys, bush whacking through the woods and at this time of year she depends on her smart wool socks to keep her feet warm. She was tickled when she opened her present and it was full of smarwool socks I got from Sierra Trading.

Reviewed by Tosha the Farmer from Todd, N.C. on Thursday, December 26, 2013

The ski socks are soft, feels better than i could imagine. Color is vibrant. My daughter is out side feeding Red the pig, two dozen chickens, four goats and the dogs on the farm. The weather here in N.C. mountains is harsh at times. These socks will server the feet well.

Reviewed by Mara from PA on Wednesday, December 25, 2013

I ordered these socks for my daughter. They keep her feet very warm! Seem to run a bit small but was not a problem.
Perfect for skiing!

Reviewed by Annie O from Centennial, Colorado on Friday, December 20, 2013

Love the smart wool socks. They are so warm, fit true to size and hold up under repeated wear.

Reviewed by Abbie112 from Tennessee on Wednesday, December 18, 2013

I love SmartWool socks but have a limited collection because of the cost. I thought I'd try the ones from Sierra Trading Post and they are amazing! I usually get the crew version but thought I might as well try these socks with boots. They are so comfortable and great with boots. The only thing I didn't realize is that they have "irregular" stamped on the foot, but that has pretty much faded after a couple of wearings. Highly recommend this product.

Reviewed by Marie Miler from Michigan on Tuesday, December 17, 2013

Well made and wears well. I've never been disappointed by any of the Smart Wool products.

Reviewed by Northwest Aggie from Oregon on Monday, December 16, 2013

Marked irregular, but you'd never know what for - a steal!!! Nice heavy boot socks. GET Them!

Reviewed by Rennie from Sag Harbor, Long Island on Friday, December 13, 2013

Our family lives in Smartwool socks when the temps dip, especially their medium cushion ski socks, which provide exceptionally comfy warmth and firm support. The wool holds up well for years, even though I rather roughly wash and dry them at high heat, along with the rest of the household laundry. Everybody looks forward to receiving their three new pairs for Christmas. After a few years the heels do begin to get a tiny bit threadbare, but they don't seem to lose their their warmth, or stretch, as they continue to stay up well. I love all Smartwool products, and can't say enough about how amazing they are at keeping out the cold. I recommend them to everyone!