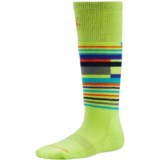 2nds, barely perceptible blemishes. Smooth on the outside, with plush terry loop panels on the inside, SmartWool's Wintersport Stripe socks keep little feet warm and dry.
Average Rating based on
124
reviews
4.758064
0
5
Verified Buyer

Reviewed by AT from Washington state on Monday, October 16, 2017

Greaty socks, warm and cozy and perfect for keeping little toes warm outdoors in cold, icky weather.

Verified Buyer

Reviewed by Caitlyn from Virginia on Friday, December 23, 2016

I was pleasantly surprised when I received these socks. The cushion is nice and thick. The sock itself is a lot thicker than I had imagined it would be. We love the bright, vibrant colors and the length of them. I can't attest to their longevity yet but fr examination, they look very well made so I have high hopes.

Verified Buyer

Reviewed by VermontMama from Vermont on Wednesday, November 16, 2016

These are great socks marked irregular. From what I can tell there is a skipped thread around the arch of the foot, but it doesn't look like something that will unravel or further deteriorate with wear. These will be perfect for my little guy thus winter.

Verified Buyer

Reviewed by Ashley from Minneapolis on Wednesday, August 19, 2015

We haven't tried these yet in cold conditions but, if my experience with other SmartWool products says anything, it's that they will be warm and snuggly. They seem to run true to size. My son is a size 7 shoe and the size XS seems like it will fit perfectly, maybe even a tiny tiny bit small. Very thick area on the foot and nice quality along the sock part as well. These will be great for our MN winters!

Verified Buyer

Reviewed by Greta from New York on Saturday, August 8, 2015

We cannot recommend SmartWool socks highly enough. My son has been wearing them since he was a baby (he is 10 now) and they're awesome. We buy extras, multiple colors, and give them away as gifts. They last for more than 1 child (we would hand them down, twice, when he was young and growing out of them more quickly).

Verified Buyer

Reviewed by Joolieboo from Massachusetts on Tuesday, February 24, 2015

We have tried a number of different brand ski socks and my entire family agrees that SmartWool is the best for comfort, breathability and warmth. My 12-year-old son thought these were really cool and was very happy skiing in them on a 1-degree day where the wind chill brought temps down to negative digits.

Yes, these are seconds but usually that means that there's a stitch of color out of place in the pattern (for these socks, it was a tiny line of grey thread in the heel). In all the SmartWool socks purchased from Sierra Trading Post, I have never had anything structurally wrong with the socks. Some socks are stamped "IRREGULAR" but this comes off in the wash.

Verified Buyer

Reviewed by wet skiing from alaska on Thursday, February 5, 2015

These fit well. Wash well. Last long enough to be great hand me downs.

Verified Buyer

Reviewed by Ame from DC on Monday, December 29, 2014

These are pretty thick socks, but work well as a daily outdoor sock for my 3 year old. He likes to wear them over his long underwear, so I assume they are a tad itchy for him. I like the stripe pattern a lot (he doesn't seem to care). I bought XS size, they seem to fit just about right. (size 8)

Verified Buyer

Reviewed by Moray from New York on Friday, December 19, 2014

The feet on these seemed extra wide. It was a weird fit and I kind of have to tuck them inside her boots but otherwise they are warm.

Verified Buyer

Reviewed by Lisa L. from CT on Tuesday, December 9, 2014

I love Smartwool socks because they keep my daughter's feet warm even when they get wet, yet I can throw them in the washer and dryer (unlike 100% wool socks). However, I have the same problem with this pair that I've had with a few others from Smartwool, which is that they are cut very strangely. The foot length fits correctly, but the toe width is so wide that the excess sock material cannot be comfortably stuffed into a shoe. It makes me wonder if they have ever actually seen a toddler's foot before! We still get use out of these socks, as my daughter wears them to sleep in, but they are completely unusable with shoes.