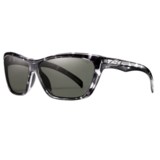 Closeouts. Smith Optics' Aura polarized sunglasses comfortably reduce glare and ensure crisp, optically precise vision with their Techlite glass TLT lenses and bio-based Evolve frame.
Average Rating based on
20
reviews
4.400000
0
5
Verified Buyer

Reviewed by The Adventurerer from Houston, TX on Thursday, February 26, 2015

I got these sunglasses to replace an old pair I had. I am very active and participate in many outdoor sports and activities. These sunglasses are attractive and feminine, fit my small face perfectly, have a great dark lens, and so far have been able to function in all the capacities I need them for. Since the lenses are glass, the sunglasses are a bit heavier than the typical plastic lens variety. I really only notice the difference when I am holding them. When I am actually wearing them, it really does not make much of a noticeable difference. I have not yet gotten the opportunity to wear them on an extended outdoor trip (backpacking, canoeing, rock climbing, etc) so I cannot say how they will hold up for long periods of intense use, however I am excited to see how they will function.

Verified Buyer

Reviewed by Faye from Vermont on Monday, February 23, 2015

Never tried to buy sunglasses via the internet before and was afraid to do so now. Sierra is awesome with return though, so took a chance. These sunglasses are *awesome*! I have a small face, these fit me like a glove. They are white frames with blue lenses and look tres chic! Right now in Vermont there is nothing but snow glare everywhere and the polarized lenses took care of that in nothing flat, all while looking great. Yes, they are pricey, but worth it.

Verified Buyer

Reviewed by Brian from Texas on Tuesday, May 13, 2014

My fiance loved it. Polarized so I know it'll protect her eyes and the blue reflective lenses look awesome.


Reviewed by Kris from Australia on Thursday, February 6, 2014

I ordered these Smith sunglasses over a year ago and have happily worn them everywhere - then I dropped them in a park in Sydney, Australia, and someone must be the happy owner now (I returned to look after a couple of hours, no luck). So I crossed my fingers that Sierra Trading Post would still have the same polarized glass, same style - and I lucked out. I not only ordered the same sunglasses, polarized, of course, I also ordered non-polarized same style sunglasses in another frame color. I m so happy. Love the polarized best, especially since I live in crazy bright Australia. But I am growing on the gradient non-polarized lenses for being able to see down, read, etc without the lenses being too dark to see thru. I think I own 3 pairs now. Take that you sunglass thieves! (Oh, and did I say that they are good headbands for when I go indoors, in the shade, or when the wind whips up?). Best buy - go for them. And they look good too........

Reviewed by Lon from Long Island on Monday, December 30, 2013

Loved the blue lens. When I received them, the lenses are greyish, not blue. Must have been a reflection. They are too similar to another pair I have. Very nice quality and a great fit.

Reviewed by LIshopper from long island, ny on Wednesday, November 27, 2013

Good fit for my medium face. The spring hinges should also hold up very well. Overall, good style and well-made.

Reviewed by Runner from North Carolina on Saturday, October 12, 2013

These sunglasses are great. They are comfortable, stylish, and I love that they are polarized. I would recommend these sunglasses to anyone.

Reviewed by lbcoyote from Florida on Tuesday, October 1, 2013

I am addicted to sunglasses, I admit it. I love different shapes, and colors and frames and lenses. The elusive pair I had been looking for were white with blue lenses.
I saw the Smith's, and I was smitten, but they were a bit more than I wanted to spend. I kept looking at them, and decided that protecting my eyes with quality sunglasses was worth it. these reduce glare, they clarify the road, look great and they make what I'm look at look great.
When they arrived I was a little leery, I had read some of the reviews which were less than complimentary, but my fears quickly vanished. They looked good. They fit great. They don't slide off my nose, not even when I sweat. I live in Florida, EVERYBODY sweats here.
These reduced glare. I found my best friend and even my son plotting to steal them from me. They are my new favorite pair. I'm wearing them right now, holding my hair back as I type.
I have no regrets. Thanks Smith and thanks Sierra Trading Post!

Reviewed by Bon Viveur from Frozen Tundra on Friday, September 13, 2013

I've worn Spy sunglasses for years, but after being a bit disappointed in the quality of the polarized lenses by my latest pair, I decided to take a leap of faith and give Smith a try. I am in love with these glasses!
The look is stylish and just girly enough, sporty -and the polarized lenses are a dream-way better than Spy! I can't wait to go outside so I can wear them. They are a bit heavy because of the glass lenses, but I'll get used to it.
These glasses are of exceptional quality, and I would recommend them to anyone!

Reviewed by BendixKing from Fort Collins, CO on Thursday, May 23, 2013

I wanted these glasses to work so bad! Great shape, dark polarized lenses, great frame color and durability of Smith; but they are too small for my face. For a girl I have a larger head and features and these were just to small to look good. I have always bought Smiths and are my favorite brand, these ones just missed the mark for me. If you have a larger head you make look at getting something else because they are made for small to medium sized faces.