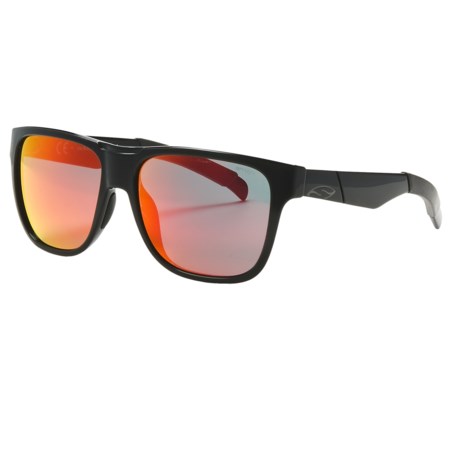 I believe they are NOT polarized, but I did look up the Carbonic TLT part, because I did not know what that meant. Found this on Smith website:

"Objects in lens are exactly the same as they appear." When light passes through a medium it refracts, i.e. changes course. If left uncorrected, this refraction can cause visual distortion and eye fatigue. Smith's Tapered Lens Technology (TLT) straightens out the incoming light rays by progressively tapering the lens from the optical center toward the peripheral view. What this means for you is that you see with 100% accuracy and maximum comfort.

Visual distortion occurs when light waves hit an aggressively-curved lens causing it to bend or distort an objects true size or position. Imagine looking through a fish eye lens. What your eye normally sees, is stretched beyond reality. Get the picture? Tapered Lens Technology corrects the distortion by progressively tapering the lens from the optical center towards the outer edges. Light waves are thereby delivered straight to your eye resulting in zero distortion and true optical clarity. What you see is what you get. Carbonic lenses are engineered to be the most impact resistant lens material in the world. Injection molded with Tapered Lens Technology for optical precision and a high level of protection.

No, these are not polarized.